Advertising Rates on GreekBoston.com
Advertising on GreekBoston.com is a fantastic and cost effective way to promote your GREEK AND NON-GREEK Retail Business, Service Based Business, Online Business, Greek Event, Non-Profit Organization, Book, Real Estate Property and much MORE!
GreekBoston.com is one of the oldest and most visited Greek websites written in English on the internet. GreekBoston.com, currently receives an average of 300,000 unique website visitors per month from the New England, United States region and from Greeks and non-Greeks from throughout the world!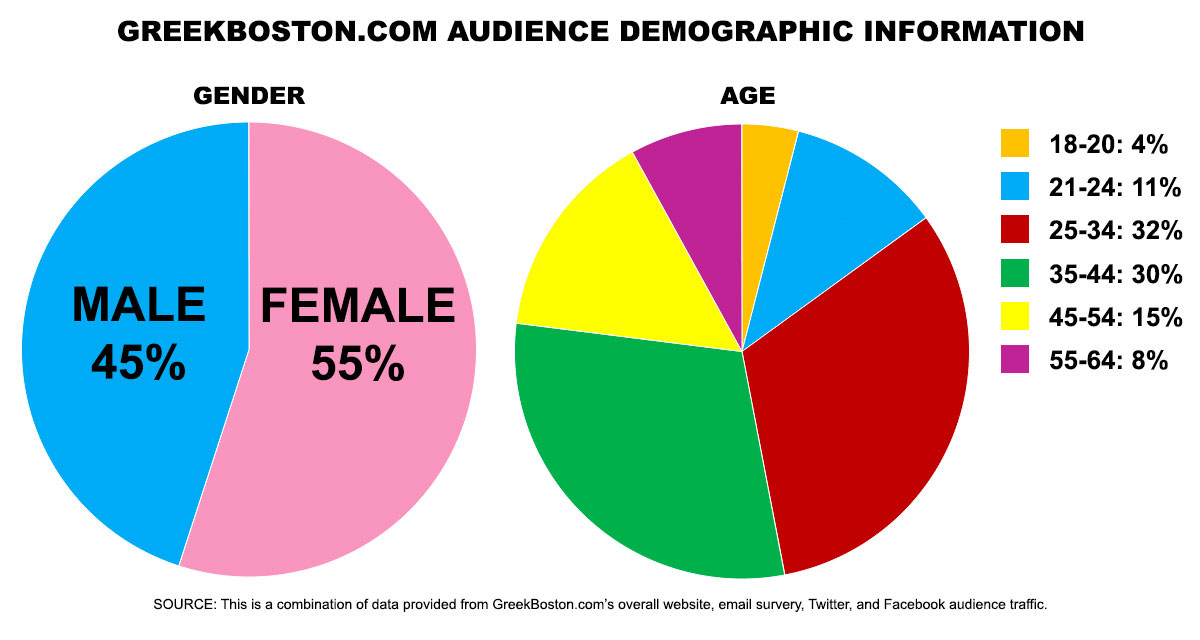 Some Past and Current GreekBoston.com Advertisers

THE FOLLOWING GREEK SINGERS HAVE PROMOTED THEIR CONCERTS ON GREEKBOSTON.COM: Antonis Remos, Despina Vandi, Giannis Ploutarhos, Nikos Vertis, Panos Kiamos, Anna Vissi, Thanos Petrelis, Giorgos Tsalikis, Nikos Kourkoulis, George Dalaras, Nikos Makropoulos, Elli Kokkinou, Dimitris Mpasis, Mario Frangoulis, Glykeria, Yiannis Parios, Antypas, Michalis Hatzigiannis, Maria Farantouri and many MORE!
**ANY QUESTIONS ABOUT ADVERTISING, PLEASE EMAIL:  greekboston@worldwidegreeks.com

PLEASE SELECT ONE OF THE AFFORDABLE ADVERTISING PACKAGES BELOW:
Total Cost for Silver Advertising Package

Total Cost for Gold Advertising Package

Free Local Event Listing Page
HEAVY rotation of banner ads in the following sizes on GreekBoston.com: 728×90, and 250×250 (free banner ad design)
3 promotional social media posts per week, on the Greek Boston social media pages promoting your event (for 1 month prior to event)
Featured event listed towards the top of the weekly GreekBoston.com email newsletter – 24,000 opt-in subscribers
Advertising report will be provided after your event ends
Total Cost for Local Greek Event Advertising Package (for 1 Month Event AD Campaign)


GreekBoston.com Online Advertising Additional Information
We reserve the right to reject any advertisers that we feel are not relevant or appropriate for the audiences of the GreekBoston.com website.
All online advertising package payment will be billed automatically every 30 days.  There are no refunds, all advertising sales are final.
Payment may be made online on this page by any major credit card, Paypal or wire transfer. 
**GreekBoston.com is OWNED by Brick Marketing, LLC.  Charges to Your Credit Card will be from Brick Marketing, LLC.  If you wish to pay by check please make it out to Brick Marketing, LLC.  Thanks!
Do you know someone that should be advertising on this site? Please share it with them!