Best Ancient Greek Historic Sites to Visit
Written by GreekBoston.com in Ancient Greek History Comments Off on Best Ancient Greek Historic Sites to Visit
Greece is one of the few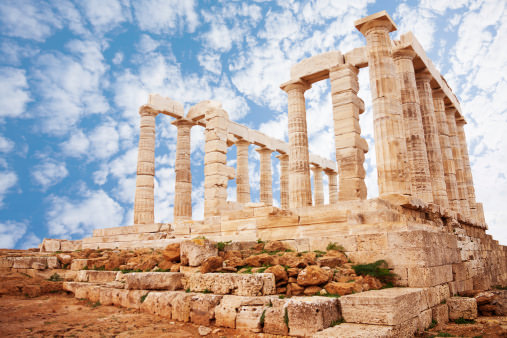 places in the world where the past and the present seem to coexist. It is both a modernized country where the inhabitants own modern gadgets and drive cars, and also a place where rich history spans back over thousands of years.
Have you been fascinated with Ancient Greece? Well, even though that era of history has passed, you can still enjoy some remnants. There is plenty of Ancient Greek history sites still standing today that you can visit. Here is a list of some of the historic sites to visit.
Athens, Greece
Athens is the biggest city in Greece. It is also one of the oldest and is therefore the home to a few major historic sites.
Parthenon. An ancient temple that was built in 440 BC.
Plaka. One of the most historic neighborhoods in Athens. It is near the Parthenon.
Acropolis. This is also an ancient historic site that is near the Parthenon.
Syntagma Square. The major square in Athens, which is also rich in history.
Agora. This is an historic market in Athens.
If you are unable to visit anywhere else in Greece, Athens is a must-see. The Parthenon and the surrounding area are a big part of the culture and history of Ancient Greece that are absolutely worth a visit.
Sounion, Greece

If you have some extra time while in Athens, Sounion is worth a visit. It's an easy taxi ride away from the city and most taxi drivers will be happy to drive you there for a fixed fee so you can visit the Temple of Poseidon. This ancient temple overlooks the ocean and seems to be the perfect tribute to the God of the Sea.
Ancient Olympia
Our modern Olympic games are based on the festivities that happened here in ancient times. The games were held every four years and were an opportunity for the city-states to put forth their best athletes so they could complete with one another.
These games were not only a great test of athleticism, they were also looked at as a dedication to the gods and goddesses. You can still visit the grounds today so you can see where the Ancient Olympic Games in Greece took place.
Ancient Ruins at Delphi

In Ancient Greece, Delphi was considered one of the most important cities and the ruins are still standing today. Many of the ruins that are still standing today have been there since the 5th Century BC. In the Archaic Period, Delphi was considered a major political player in Ancient Greece.
There is a temple dedicated to Apollo on Delphi. He had the gift of prophecy but he actively sought an oracle that he could enlist for help in seeing the future. People would flock to the temple to visit the oracle.
In modern Greece, there are several historic sites that are worth a visit. When you visit the country, be sure to visit Athens, Delphi, Olympia, and Sounion. These are four of the major sites in Modern Greece that are rich with ancient history.
Categorized in: Ancient Greek History
This post was written by GreekBoston.com
Like this article? Please share below: