Recipe for Amygdalota – Greek Almond Cookie
Written by GreekBoston.com in Authentic Greek Food Recipes, Greek Desserts Recipes
Amygdalota are delicate Greek almond cookies that are crisp on the outside and chewy on the inside.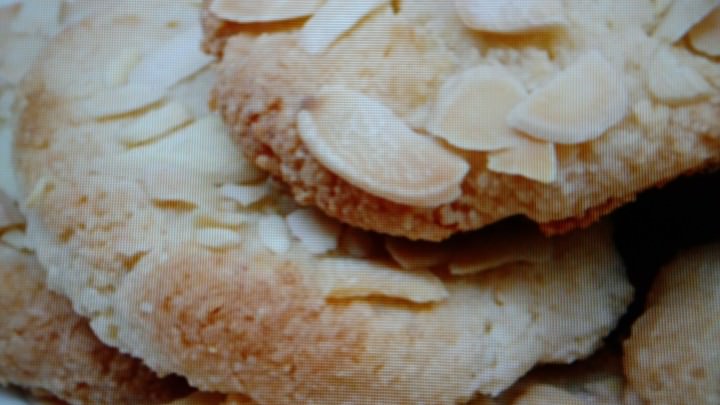 Greek Almond Cookie (Amygdalota) Ingredients:
1 pound ground almond meal
1 1/2 to 2 cups sugar
1/2 cup water
1-2 tablespoons orange flower water
Confectioner's sugar for sprinkling
How to Bake Greek Almond Cookies:
Preheat the oven to 325 Degrees Fahrenheit.
You can use any packaged almond meal that you can find. If you need to make your own, simply use 1 pound of blanched almonds and pulse them in a food processor until a fine meal is formed.
In a large saucepan, heat the ground almond meal, sugar, water and orange flower water over medium heat. Stir with a wooden spoon until the mixture no longer sticks to the bottom and sides of the pan, approx. 5 to 8 minutes.
Let cool for about 5 minutes. Wet your fingers with orange flour water, measure out about a tablespoon of dough, and shape the dough into small pear shapes that are about 1 1/2 inches high. Place on a cookie sheet that has been brushed with olive oil.
Place the cookie sheet in the center of the oven and bake until crispy, which should take about 20 minutes. Remove cookie sheet from the oven and let the cookies cool completely in the pan.
Sprinkle the cookies with confectioners' sugar until they are completely covered.
PLEASE NOTE: Greek recipes can be slightly different based on a variety of reasons, such as the region of Greece that the recipe is being made in. If you have seen this Greek recipe made another way, please send us an email to greekboston@worldwidegreeks.com and we will evaluate your suggestion. Thanks!
Categorized in: Authentic Greek Food Recipes, Greek Desserts Recipes
This post was written by GreekBoston.com
Like this article? Please share below: