Recipe for Moussaka
Written by GreekBoston.com in Authentic Greek Food Recipes, Greek Style Minced Meat Recipes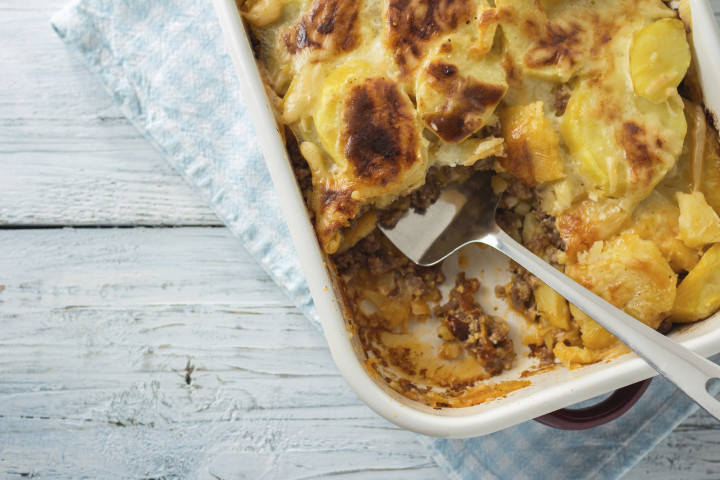 In this traditional dish, slices of eggplant are layered with ground beef and topped with a creamy sauce. It tastes especially good with ripe, in-season eggplant!
Greek Style Baked Eggplant:
2 medium-sized eggplants
Olive oil, as needed
1 pound 85% lean ground beef
1 large onion, peeled and chopped
2 cloves of garlic, finely chopped
1 cup tomato sauce
1 teaspoon dried oregano
Salt, to taste
Pepper, to taste
For the Sauce
3 tablespoons salted butter
Salt, to taste
Pepper, to taste
2 tablespoons all-purpose flour
1 cup whole milk
1 egg
1/2 cup grated Parmesan or Romano cheese
Instructions on How to Prepare Moussaka:
Spray a 9 x 13 baking dish with nonstick cooking spray and set aside. Preheat the oven to 350 degrees Fahrenheit.
Peel the eggplants and then slice them into pieces that are about 1/4 inch thick. If you don't have a vegetable slicer or mandolin, do your best with a sharp knife.
Rub some olive oil onto a baking sheet. Arrange the egg plant slices onto the sheet and drizzle the pieces with more olive oil. Sprinkle the eggplant with salt and pepper and bake in the preheated oven until golden brown. This should take around 20-30 minutes. Remove them from the oven immediately.
Arrange the eggplant slices in a single layer at the bottom of the 9 x 13 baking dish. This should use up about half of the slices. Set aside.
Add some olive oil to the bottom of a heavy skillet. Cook the onions and beef together over medium heat until the onions are translucent and the beef is cooked all the way through. Break up the beef throughout the cooking process using a wooden spoon. Add the garlic, tomato sauce, oregano, and a pinch of salt and pepper and cook for several minutes with the heat set on low. Pour the mixture into the baking dish over the eggplant slices. Top with the rest of the eggplant slices.
At this point, you'll want to make the cheese sauce. Melt the butter in a medium saucepan that has been set in medium heat. Whisk in the flour and then add a pinch of salt and pepper, to taste. Whisk in the milk slowly and let it cook over low heat for a few minutes while the sauce thickens. You'll need to stir the mixture constantly with a wooden spoon to prevent it from sticking.
In a separate bowl, scramble the egg and stir in the cheese. Slowly stir into the milk mixture and remove from the heat immediately. Pour over the eggplant slices in the baking dish. Place the baking pan in the center of the oven and bake for about 45 minutes, or until the eggplant is golden brown. Remove from the oven and let stand in the pan for 5  minutes before serving.
Categorized in: Authentic Greek Food Recipes, Greek Style Minced Meat Recipes
This post was written by GreekBoston.com
Like this article? Please share below: