Map of Crete Greece
Exploring Crete – Getting Around the Island
Whether you arrived by plane or boat, once you get to the island of Crete, there are plenty of options available for exploring the largest island in Greece. Most tourists will travel to one of the three major cities Heraklion (Iraklion), Chania (Hania), and Rethymnon (Rethimno). Beyond the cities there are plenty of sites to see across the island, and Crete is home to some of Europe's most beautiful beaches.
If you plan on city hopping or simply exploring the island, here are a few options for getting around and exploring Crete.
By Car
The major cities in Crete are connected by the island's major highway which crosses most of the north coast. For travelers looking for the most flexibility for exploring all Crete has to offer, renting a car is the best bet. Car-re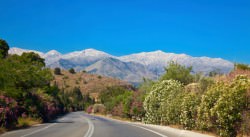 ntal agencies are available in the major cities and at the airports. Compared to other roads and highways on the mainland, the roads in Crete are usually not too heavily congested. Luckily for foreign tourists, most of the road signs are in both Greek and English, however, many times you'll find that there is a significant lack of signage when driving through.
Travel experts suggest only driving during the day due to low visibility at night. They also recommend having a full tank as gas stations are few and far between if you are traveling between the cities, and remind you to watch out for moped users and the occasional sheep and goats that like to cross the roads.
By Bus
For many tourists, renting a car in a foreign country is a lot to deal with. Instead of trying to navigate the roads of Crete on your own, there are plenty of buses that will take you across the island. KTEL which is the bus system that serves all of Greece runs the long-distance buses on Crete. Public, local buses also service the cities. Inner city buses are relatively frequent, however long-distance bus schedules may vary.
By Bike
Biking or cycling recently has become very popular in Crete. It is recommended if you want to do a tour on bike, you join a cycling tour for a group excursion. The roads are not designed with bikers in mind, and as a result, Greek drivers are not used to accommodating bicycle riders.
By Moped
What would a Mediterranean getaway be without exploring the area by moped? Mopeds are available to rent, however motorbike accidents are responsible for many injuries among tourists annually. Again, the roads in Crete aren't the friendliest to those driving on two wheels. Plus, if you are scooting around the city, be wary of urban traffic.
Walking
The major cities including Heraklion are all fairly walkable. If you are looking to get away to Crete to enjoy the beauty of the island and soak up some sun, you will probably be able to manage getting around just by walking. In the cities there are a variety of cafes, restaurants, shopping, and other services well within walking distance from the major hotels.
Like this article? Please share below: