The Celebration of Saint Basil the Great
Written by Andrew Athanasiou in Greek New Year Traditions Comments Off on The Celebration of Saint Basil the Great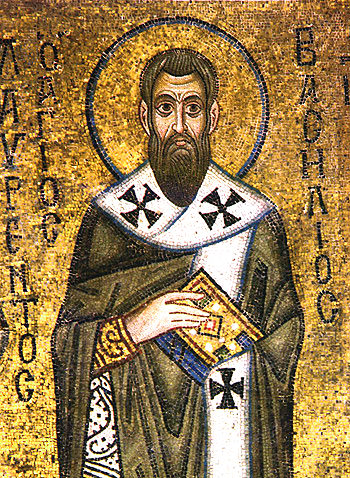 On January 1st, we celebrate one of the most beloved saints of the Church, Saint Basil the Great. St. Basil was born in Caesaria which would be modern day Kayseri, Turkey around 330 AD. He was born into a very pious family. His grandfather was a martyr, his grandmother is St Makrina and four of his siblings are saints too (Makrina the Younger, Naucratios, Peter of Sebaste, and Gregory of Nyssa).
As a young man St. Basil studied law and teaching, but eventually was lead to a more spiritually focused life.  At first Basil was lead to a wrong teaching of the church but eventually became a great supporter of the Nicene Creed and then adamantly fought Arianism (a heretical belief that, simply put, states Christ was not fully God).
St. Basil sought a monastic life but eventually decided that he couldn't live in such isolation, and he maintained his learned spirituality and started his own community. He gave away all his belongings. Eventually he became the bishop of Caesarea in 370 AD. As Bishop, Basil created a large complex (almost its own city) called Basiliad. The Basiliad was a revolutionary place.
The poor and orphaned were housed and fed; the sick and the aged were given medical attention for free. All of this was accomplished by having a monastic community attached to the Basiliad and lived out a life of service, much like Mother Teresa. Basil's Basiliad was the world's first hospital, an outpouring of love for neighbor with the backing of the Church, an incredible accomplishment.
We have a tradition of Vasilopita (literally "Basil Bread") which comes from the Life of St. Basil. Many of us question where this bread comes from and why we do it.  The Emperor had put a large tax on Basil's flock during a time of great famine. People gave away their jewelry to pay for the tax. Eventually St Basil called the emperor to repent and he did.  All of the jewelry was turned over to Basil, but no one knew what belonged to whom. Basil prayed and decided to bake the jewelry into bread and prayed and cut pieces for his people.  Miraculously everyone received in their bread their own belongings that they had paid as tax.
As you may recall, there is a liturgy dedicated to St. Basil and we celebrate it 10 times a year (5 Sundays of Lent, Holy Thursday, Vesperal Liturgy for Christmas [Christmas Eve], Theophany [January 6th], Vesperal Liturgy for Pascha [Holy Saturday Morning], and on St. Basil's Feast Day [January 1st]). This liturgy, which in most ways is like the Liturgy of St. John Chrysostom, has some longer prayers. This liturgy actually used to be the liturgy we celebrated every Sunday, but eventually the Chrysostom and Basil liturgies switched priority.
It is very interesting that these two major liturgies come from two great hierarchs, saints and friends. St. Basil was very close with St. John Chrysostom. The book "On the Priesthood" by Chrysostom is a dialogue between these two great friends.
May St. Basil continue to intercede for us!
About Andrew Athanasiou
Andrew is a student of Holy Cross Greek Orthodox School of Theology, located in Brookline, Massachusetts. Andrew is a Masters of Divinity Student who is also a Seminarian. Andrew is from Pittsburgh, Pennsylvania, and his knowledge comes from five major sources: Greek Orthodox Seminary; Greek Orthodox Summer Camp; both being taught and teaching in Greek Orthodox Sunday School; and finally further readings and interests in other theological areas.
Categorized in: Greek New Year Traditions
This post was written by Andrew Athanasiou
Like this article? Please share below: