The Greek Orthodox Church and Confession
Written by Andrew Athanasiou in Greek Orthodox Religious Information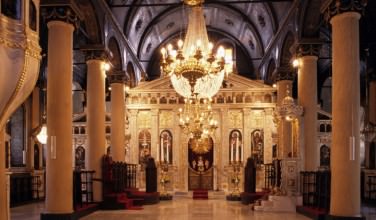 From my perspective, the most forgotten mystery ("sacrament") of the Church is the mystery of Confession, also called the order of penance. Regardless of what you call it, it is a mystery surrounded by forgiveness and remission of sins. It is peculiar in terms of sacraments, as it has a very individualistic feel to it. All the other sacraments are typically done as a group, even when the sacrament only imparts changes on a few of the believers (such as baptism, chrismation, marriage and ordination) the entirety of the believers are able to participate throughout the entire service. Don't worry, our churches don't have the confessional booth like the movies where you talk to the voice behind the wall, but rather it's a real conversation on how to better us. The priest is the channel to God, he is not supposed to hold grudges or judge you for your sin, but rather give you advice to repair your life.
We find biblical support for going to confession. Christ says in the Gospel of Matthew, "Assuredly, I say to you, whatever you bind on earth will be bound in heaven, and whatever you loose on earth will be loosed in heaven." James 5:16 says, "Therefore confess your sins to each other and pray for each other so that you may be healed. The prayer of a righteous person is powerful and effective." Acts 19:18 says, "Also many of those who were now believers came, confessing and divulging their practices." This has been a practice of the Church since the beginning.
Most often I hear such concerns as "the priest will judge me," "why do I have to tell someone else," "doesn't God already know," and so on. Everyone I know has a difficulty or nervousness going to confession, and that's not a bad thing. We simply are embarrassed of our sins, but it is through confession that we can have an accountability and interaction that should drive change in our everyday life. Going to confession takes bravery, the bravery to face you in the mirror, not the same mirror we see every day in the bathroom, but rather the mirror that sees body and soul.
If accountability is to be achieved, it is necessary for each member of the Church to have a Spiritual Father. In my experience in parish life, most Greek Orthodox Christians do not participate in the mystery of confession, yet in my experience in Youth Camp Ministries I see great numbers of children participate in the mystery. If you have not experienced Youth Camp Ministries, you would not understand the intense metanoia (change of one's nous/mind) that is witnessed to by these children. Unfortunately it seems as if we need an opportunity to present itself to us, rather than seeking out a Spiritual Father, and this is not something that only the youth should participate in. A Spiritual Father should be a priest that you believe is experienced, a prayerful man whom you will be able to open up to and one whose opinion you trust and believe. You Spiritual Father may be your Parish Priest, but it is not limited to him, though he may be the most convenient.
In the Russian tradition, there is a mandatory connection between going to confession and receiving communion, yet in the Greek tradition, we don't regularly find this practice. This should be something you establish with your Spiritual Father.
Categorized in: Greek Orthodox Religious Information
This post was written by Andrew Athanasiou
Like this article? Please share below: