A Greek Orthodox Halloween Dilemma
Written by Andrew Athanasiou in Greek Orthodox Religious Information Comments Off on A Greek Orthodox Halloween Dilemma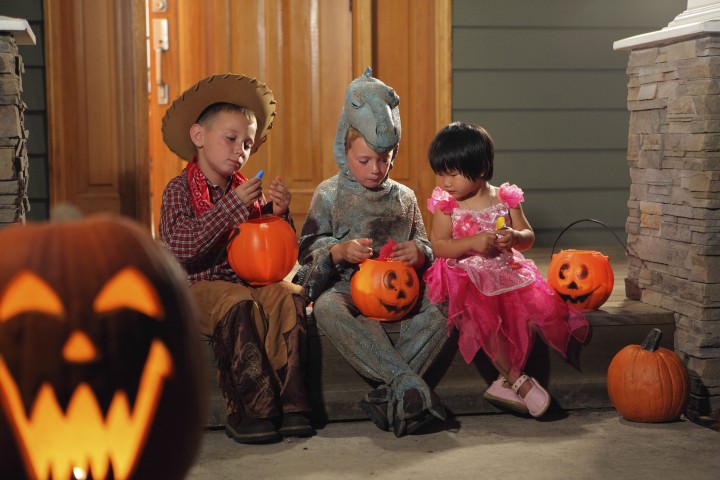 Since September began we all saw it coming. Halloween themed candy was being sold in the grocery store and my beloved Orange Cream filled Halloween Oreos had hit the shelves. For Orthodox Christians this "secular" holiday causes some intense emotions on both sides of the debate (even for those studying theology).
I personally have been on both sides of the line throughout my life. Prior to turning 8 years old, my family and I were Trick-or-Treaters until the fateful day that I walked into the Christian bookstore with my mom. I saw a book about why we shouldn't celebrate Halloween, and even without reading it; I began to question the Holiday and ultimately stopped my entire family from celebrating.
From that point, during my childhood, we would avoid the holiday and head to the movies for the night (it was actually a very slow night at the theaters, if you were wondering). I didn't celebrate anything Halloween-related for 13 years, but then in my early college years, Halloween became major social event. To celebrate, I dressed up as a gladiator with my wife as a Greek goddess (her costume was more fitting for her than mine was for me).
So what to do about Halloween? From one angle it seems so innocent and kid-friendly, but on the other hand, it seems so demonic and not humanly friendly. You can find literature that defends Halloween having Christian beginnings, coming from the Catholic's celebrating All-Saints on November 1st (which is why it would be called hallow meaning holy). You can also find literature that claim that from Oct 30-Nov 2 the Celts would celebrate their pagan god of the dead. I have read a great deal of literature about how the Celtic claims are grossly misunderstood and potentially even made up. Regardless we are left in the middle, kind of left to make up our own mind, which is a scary thing for Orthodox Christians
In my current opinion, which is open to change, the roots of the holiday don't have much to do with what is practiced today. I don't see Roman Catholic's filling up their Churches on the evening of October 31st. I also don't see any Celts walking around with animal heads on. But what I do see is both things that Orthodox Christians should be participating in and things that they shouldn't.
As Orthodox Christians are we are to be hospitable, and what better way than to hand out free candy to the children of our neighborhoods. We can share out candy with our friends (and parents too). We can open our homes to our friends and have a gathering. We can dress up in fun things.
Too often though, the opposite is done. Our own children expect to get candy and will get upset if there is a house that doesn't have any candy or a particular kind of candy. We fill our children and ourselves with terror for no good reason. We make up stories and lie. We find our adolescents drunk at parties and making bad decisions. Some people seek out evil, mess around with Ouija boards and pretend it isn't real. Let me remind you, evil is real. The devil and demons are not imaginary; they are constantly at war with us
As Orthodox Christians, we are called to baptize the world in Orthodoxy, and that includes secular holidays too. We should pray for veterans on Veteran's Day, give thanks to God on Thanksgiving, and we should bring the light of Christ into the dark evening of Halloween. If you cannot do that, maybe you shouldn't participate, and that's ok. But if you feel that you can provide a mentally, spiritually, and physically safe environment for you and/or your children, then who am I to stop you.
About Andrew Athanasiou
Andrew is a student of Holy Cross Greek Orthodox School of Theology, located in Brookline, Massachusetts. Andrew is a Masters of Divinity Student who is also a Seminarian. Andrew is from Pittsburgh, Pennsylvania, and his knowledge comes from five major sources: Greek Orthodox Seminary; Greek Orthodox Summer Camp; both being taught and teaching in Greek Orthodox Sunday School; and finally further readings and interests in other theological areas.
Categorized in: Greek Orthodox Religious Information
This post was written by Andrew Athanasiou
Like this article? Please share below: