The Importance of the Reading of the Epistle
Written by Andrew Athanasiou in Greek Orthodox Religious Information Comments Off on The Importance of the Reading of the Epistle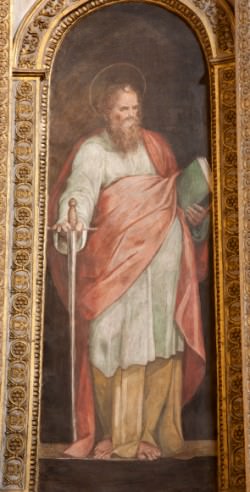 So does everyone know that part of the liturgy where the singing stops and we all get to sit down for some rest before we stand for the gospel reading? This is actually a very important part of the service. During this portion of the service the reader will read the Epistle.
The Epistle readings come from the writers St. Luke the Evangelist (Acts), St. Paul (Romans, 1 Corinthians, 2 Corinthians, Galatians, Ephesians, Philippians, Colossians, 1 Thessalonians, 2 Thessalonians, 1 Timothy, 2 Timothy, Titus, Hebrews), St. James, St. Peter (1,2 Peter), St. John (1,2,3 John) and St. Jude It includes a reading from every book of the bible minus the 4 Gospels (Matthew, Mark, Luke, John) and the books of Philemon (St. Paul) and Revelation (St. John). Though I did not see the name Philemon on the lectionary of the Greek Orthodox Church, I had never heard that this is never used for an Epistle reading. Revelation has been a controversial book since it has been written and this is probably why it is never used.
Experienced followers of Christ wrote these letters to people in the Greek Orthodox Church, some specifically to certain individuals, others to specific churches, and others to the Church at a whole. We now read all of them written to the Church as a whole, aka all of us. This tradition of experienced followers of Christ and leaders of the Church continued. Encyclicals began to be written. In 367 AD, We see St. Athanasios of Alexandria wrote a Festal Letter concerning which books of should be considered scripture. This tradition continues, but not as scripture, but rather bishops send their greetings and their message to their parishes in encyclical letters.
Think of a time before the liturgy was set up with all the beautiful prayers, before the gospels were written and could be reproduced. It is this Church, pre-300s AD in which the Epistles became part of the liturgy. Liturgy consisted of a meal including bread and wine and letters from the Church's leadership be read. From what we have now, you almost have to think that the Church had many more of these letters, which for some reason have not made it through time. But to understand that more than 20 scrolls were preserved or remembered well enough to make it from 50 AD, through persecution and to the printing press in 16th century AD and now ultimately in many of our homes and at the touch of our fingers on the internet. That's a miracle my friends, that's a miracle.
In class someone asked why we sit during the Epistle and my professor of liturgics simply stated that in ancient time (and in modern times) when people spoke and taught, people sat. St. Paul in his letters is writing to US! So next time you go to church and are thanking God for the opportunity to sit down, remember you are sitting for a reason, not to lose attention but to listen and be taught.
About Andrew Athanasiou
Andrew is a student of Holy Cross Greek Orthodox School of Theology, located in Brookline, Massachusetts. Andrew is a Masters of Divinity Student who is also a Seminarian. Andrew is from Pittsburgh, Pennsylvania, and his knowledge comes from five major sources: Greek Orthodox Seminary; Greek Orthodox Summer Camp; both being taught and teaching in Greek Orthodox Sunday School; and finally further readings and interests in other theological areas.
Categorized in: Greek Orthodox Religious Information
This post was written by Andrew Athanasiou
Like this article? Please share below: