Thanksgiving for Greek Americans in the Orthodox Church
Written by Andrew Athanasiou in Greek Orthodox Religious Information Comments Off on Thanksgiving for Greek Americans in the Orthodox Church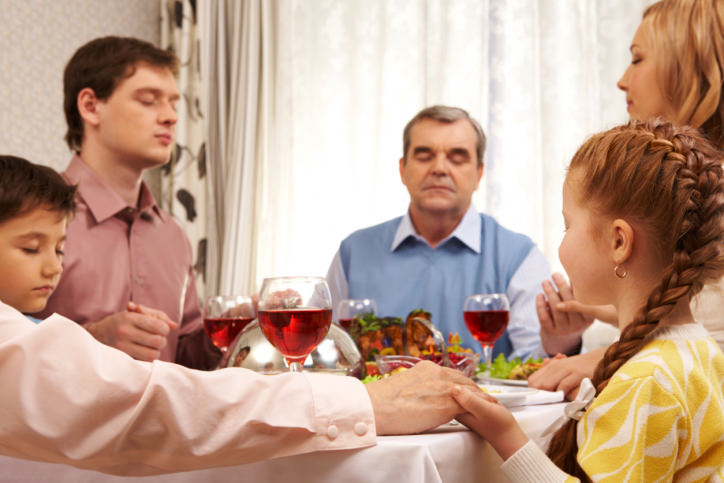 When I see the word Thanksgiving so many images, tastes and smells enter into the forefront of my memory (my Aunt Carol's Homemade Pumpkin Pie is probably tops on this list). I hear the football games playing in the background and I might be feeling some sore spots from getting up early to throw the pigskin around. There is nothing better than to spend this holiday with friends and family.
In the Greek Orthodox Church, we take on this idea of Thanksgiving on a more regular basis, but we do it so often, we often forget about it even though it's the one thing our parishes do the most.  Calling out to all you Greek language scholars, what do you think the word Eucharist means?  Yes, that's right ladies and gentlemen, this word, which is a name, we call the Communion or Body and Blood of Christ means a "thanksgiving."  We see this term "Eucharist" associated with the liturgical function in a book called the Didache, which was from the 1st or 2nd century AD.  So 1900 years of Eucharist every Sunday and every other feast day, makes it the most common thing we have ever done as a Church.
Due to the regular frequency of the service of Divine Liturgy, we may have forgotten why we would have called it a "thanksgiving" in the first place.  In 1st Corinthians, St. Paul writes, "For I received from the Lord what I also delivered to you, that the Lord Jesus on the night when he was betrayed took bread, and when he had given thanks, he broke it, and said, 'This is my body which is for you.  Do this in remembrance of me.'"  This verse shows us that Jesus had initiated the thanksgiving that went along with communion.
We are called to be thankful for all that we see and know.  Specifically in the Liturgy, we are being thankful for Christ's sacrificial death and His offering us an opportunity to become one with Him, through the partaking of communion.  "Having partaken of the divine, holy, pure, immortal, heavenly, life-giving, and awesome Mysteries of Christ, let us worthily give thanks to the Lord."  Later a prayer said by the priest says, "We thank You, loving Master, benefactor of our souls, that on this day You have made us worthy once again of Your heavenly and immortal Mysteries.  Direct our ways in the right path, establish us firmly in Your fear, guard our lives, and make our endeavors safe, through the prayers and supplications of the glorious Theotokos and ever virgin Mary and of all Your saints."  This prayer is thanking God for becoming present in our lives, specifically through Communion.
Though most of us will not attend a Divine Liturgy this Thanksgiving, let us not forget to be thankful for God's real and active presence in our lives.  Maybe we can institute a special prayer of thanksgiving, maybe from Psalm 138, maybe we can take some time away from TV, away from Football, away from the food, and offer a prayer of thanksgiving to the One who has provided all the things that we can even be thankful for.
Categorized in: Greek Orthodox Religious Information
This post was written by Andrew Athanasiou