A Traveler's Guide to the Best Shopping in Greece
Written by GreekBoston.com in About Koufonisia, Greece, Greek Travel Guide Comments Off on A Traveler's Guide to the Best Shopping in Greece
No matter where you go in Greece, you will be greeted by countless shop owners, each hoping to sell you whatever you are willing to buy. Streets are lined with clothing stores, jewelry shops, food stores, spice shops, and everything in between.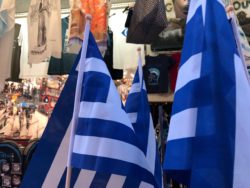 On your trip, however, it stands to reason that you want to buy and bring home items that are unique and will remind you of your time in this beautiful country. Here are some ideas on the most unique shops to visit during your stay.
Buy a Traditional Instrument at Rihardos
If you find yourself in Thessaloniki, Greece you may want to visit Rihardos to purchase one of the traditional instruments commonly used in Greek music. In fact, this is one of Greece's largest dealers of traditional instruments, such as bouzoukis. If you don't want to get too traditional, you can also buy things like guitars and basses.
Experience a Traditional Market in Athens
Since food is a big part of the Greek culture, the Central Market in Athens, Greece is worth a visit even if you don't plan on buying anything. The market is noisy, busy, and contains some of the freshest ingredients available in Greece. Aside from seafood and produce, you can also buy traditional food that you can eat while you browse, such as a Gyro, Greece's most popular street food.
Handmade Artisanal Jewelry and Handicrafts
Though Greece is known for its many jewelry shops, one of the best is called Ionnina and is located in Ionnina, Greece. This shop is known for the quality and originality of its silver pieces. Browse the original selection of necklaces, earrings, and bracelets. Other items available include silver dining sets and other decorative pieces.
Experience the World of Wine at Takis' Shop
No trip to Greece is complete without tasting a little wine. Takis' Shop, located in Hora (Naxos), Greece, is one of the best wine shops in the country. Here, you will find only the best varietals of wine from locations all over Greece. Be sure to sample some of Takis' own wine and be sure to take home plenty of bottles so you can remember Greece long after your trip is over.
Visit the Mati Art Gallery in Santorini
Do you love art? If so, you'll want to visit the Mati Art Gallery in Thira,on the island of Santorini. This is an island that attracts artists from all over the world who are inspired by the landscape and beauty of the island, particularly its legendary sunsets. It is no surprise that one of the top art galleries in Greece is located here. Browse the sculptures, original jewelry, home items and paintings that are on display. From viewing the art, it is easy to see that the artist was definitely inspired by the island.
These shops represent the best of what Greece has to offer. No matter where in Greece you are, however, you are sure to find items that will help you remember your trip once you return home.
PLEASE NOTE: The Greek travel section at GreekBoston.com are not paid reviews. Our unbiased and informative travel articles are designed review the popular cities, islands and places in Greece. We are not always able to exactly match the photos to the destinations, but we do try to get close. However, we are not looking for photo submissions at this time. If you find something in a Greek travel article that is not accurate based on your personal experience, please send us an email to greekboston@worldwidegreeks.com and we will consider your suggestions. Thanks for reading the travel section at GreekBoston.com!
Categorized in: About Koufonisia, Greece, Greek Travel Guide
This post was written by GreekBoston.com
Share this Greek Travel Article: