The "Three Fingers" of the Halkidiki Peninsula
Written by GreekBoston.com in About Halkidiki, Greece, Greek Travel Guide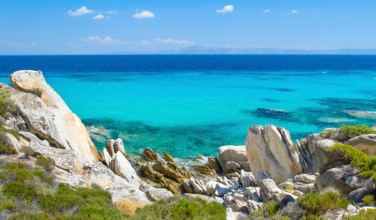 The Halkidiki Peninsula of Northern Greece is immediately recognizable by its "three fingers" that stretch into the North Aegean Sea. The Peninsula is known for its long sandy beaches that are surrounded by aquamarine seas, nightlife, and camping spots. In the summer months it is a popular tourist destination for visitors from abroad and also where Thessaloniki locals spend their vacation time. Due to the popularity of the area, it can be an expensive area to visit during the summer months.
The first "finger" of the Halkidiki Peninsula is Kassandra. It is the most developed of the three fingers and features thriving nightlife and fleshed out beaches. If you are looking for a quiet area, your best bet is the village of Polyhrono, which features family friendly beaches. Kassandra offers many campgrounds and small groups can camp on deserted isles located between Kassandra and the second finger of the Halkidiki Peninsula, Sithonia. There are also plenty of hotel options including the Hotel Odysseas and the upscale Akrogiali Boutique Hotel.
The second finger of the Halkidiki Peninsula is Sithonia. Compared to Kassandra, Sithonia is much quieter and offers a more relaxed feel. The beaches on both the West and East coasts are just as beautiful, if not more so and are typically much less crowded than the Kassandra beaches. The East coast provides excellent views of Mt. Athos across the sea.
The third finger of the Halkidiki Peninsula is Athos. Unlike Kassandra and Sithonia, Athos has mostly been untouched by modern development. It is visited by beachgoers in the north, in Secular Athos. Most visitors are Greek families as opposed to tourists. Ouranoupoli is a low-key tourist village that is located on the southwestern coast. In addition to beaches it features the Pyrgos Prosforeiou, a museum housed in a restored 14th century Byzantine tower that exhibits ancient and Byzantine artifacts found locally. Most of Athos comprises the monastic community of Mt. Athos. The rules of visiting Mt. Athos are very strict. Only men aged 18 and up can visit since legends say that the Virgin Mary visited Athos and blessed it and therefore the Holy Mountain is considered the Garden of the Virgin and there is no room for other women. Men must get an advanced permit and book a visit up to six months ahead. Visitors must follow the monks' lifestyle during their stay. If you are unable to actually visit Mt. Athos, the best views can be seen by boat. Day boat trips trace the southern peninsula.
Categorized in: About Halkidiki, Greece, Greek Travel Guide
This post was written by GreekBoston.com
Like this article? Please share below: