Experience Healing and History at Epidavros
Written by GreekBoston.com in About Nafplio, Greece, Greek Travel Guide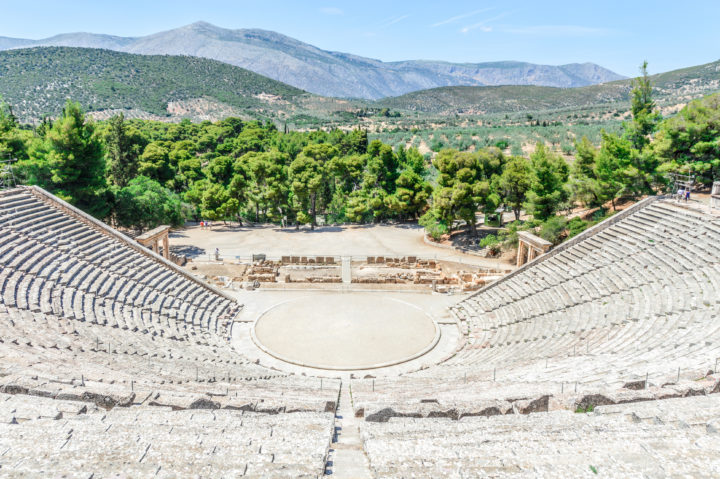 Most people who travel to Greece inevitably bump into its historical past. There are ruins from temples and ancient civilizations all over the country. There are fewer places, however, that let today's visitors experience a bit of what the culture was like thousands of years ago.
Epidavros was a famous healing center in Ancient Greece where people would seek out in an effort to heal their bodies. There is still a spa culture there today. Besides that, there are plenty of sites to see that have nothing to do with healing. It's a thriving town in its own right.
Here's an overview of what to see and do during your stay.
Getting There
Epidavros is only about twenty miles from Nafplio, which makes it an excellent candidate for a day trip from there. However, there is plenty to see and do in the area, which makes it worthy of an extended stay. If you would like to get to Epidavros directly from Athens, you can either take the bus or rent a car. It should take around two and a half hours. The bus may require a transfer in Nafplio, but it depends on the schedule.
Theater of Epidavros
The ancient theater in Epidavros is an amazing example of what the Ancient Greeks were capable of. Greeks are credited for inventing modern theater and they performed in places such as this. When filled to capacity, it can seat around 15,000 people. To experience it, you can either take a tour or attend one of the live performances that occur throughout the year. It was built around 300 BC.
Archaeological Museum
The Archaeological Museum at Epidavros is a small one, but it does a nice job briefly outlining the history of the area. In fact, much of the museum gives an overview of the history of healing in the area. While there, you will view things like instances of healing, hospital rules, and ancient statues. Much of the museum contains information about Asklepeios, the Greek god of healing.
Sanctuary of Epidavros
Once you get an overview of the history of ancient healing in Epidavros, it's time to take a lot at the ancient ruins of the sanctuary. This is where people from all over Ancient Greece came to be healed. The Archaeological Museum does contain a few accounts of people who were healed by Asklepeios. The sanctuary, however, is exactly where it happened. Though not much of it remains, with a tour guide or by reading the information located at the site, you can get a picture of what it was really like.
Cultural Experiences
Though it's easy enough to see the sites in Epidavros in one day, if you do so, you'll miss out on the true culture of the place. Once you're done sightseeing, it's time to take in a meal at one of the traditional restaurants. Spend some time walking the streets, too, so you can view the way modern day life is here. If you want to experience healing of your own, you can also visit one of the area's spas.
PLEASE NOTE: The Greek travel section at GreekBoston.com are not paid reviews. Our unbiased and informative travel articles are designed review the popular cities, islands and places in Greece. We are not always able to exactly match the photos to the destinations, but we do try to get close. However, we are not looking for photo submissions at this time. If you find something in a Greek travel article that is not accurate based on your personal experience, please send us an email to greekboston@worldwidegreeks.com and we will consider your suggestions. Thanks for reading the travel section at GreekBoston.com!
Categorized in: About Nafplio, Greece, Greek Travel Guide
This post was written by GreekBoston.com
Share this Greek Travel Article: