Ikaria and Fourni Islands – A Secluded Spot to Relax
Written by GreekBoston.com in About Fourni, Greece, Greek Travel Guide Comments Off on Ikaria and Fourni Islands – A Secluded Spot to Relax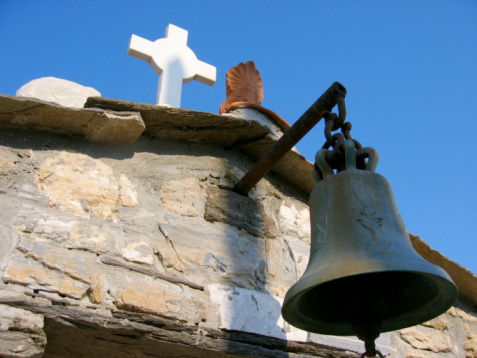 Ikaria and the Fourni Islands in the northeastern Aegean offer tranquility but there are also plenty of activities to enjoy. The area is considered magical and has an interesting history. It was a former hideout for pirates and then Communist sympathizers during Greece's Civil War. In fact, the KKE (Greek Communist Party) remains popular on the island today.
According to Greek mythology, Ikaria is honored as the birthplace of Dionysos, the god of wine. Homer considers Ikarians to be the world's first wine-makers. The signature local wine is a red wine.
Agios Kirykos is Ikaria's capital. This laid-back port village is full of plenty of restaurants, hotels, and offers a lively waterfront scene. The area is well known for its radioactive springs where visitors can enjoy the therapeutic effects of the water that alleviate pain associated with arthritis and rheumatism. Asklipios Bathhouse is well known along with Therma's indoor hot springs and Lefkada, just north of Agios Kirykos. Xylosyrtis Beach is the best in the area. Others along the Eastern coast include Faros Beach and Agios Georgios Beach.
Evdilos is Ikaria's second port. Northwest of Agios Kirykos, the villages are connected by two main roads. The drive offers fantastic views of the mountains and the sea. Kambos, west of Evdilos, was once Ikaria's capital. You can still find traces of its former glory in the form of a ruined Byzantine palace and Ikaria's oldest church. Its small Archaeological Museum displays Neolithic tools, vases, sculpture fragments, figurines, and ivory trinkets.
From Kambos to the southwest coast you'll pass through Hristos Rahes, a hillside village and a good hiking base. There is plenty of shopping and cafes here. Continuing south, you'll go through the villages of Profitis Ilias and Pezi to Karkinagri, a fishing village. Karkinagri offers boat service to Agios Krykos. The trip follows the coastline to Seychelles Beach, a secluded beach flanked by a cave.
Armenistis is the closest to a resort village in Ikaria. It features long sandy beaches, a fishing harbor, and streets lined with cafes, tavernas, and an active nightlife scene. Just east is Livadi Beach, known for its strong currents and big waves, and Mesahti and Gialiskari beaches.
Karavostamo, a few miles east of Evdilos, is one of Ikaria's largest coastal villages. Known for its beauty, the winding paths are lined with gardens, unique churches, and chickens and goats. Its small square looks out to a fishing harbor.
The Fourni Islands are a little known gem. The capital is Fourni Korseon. A former hideaway for pirates, it has become a hideaway for tourists looking for a quiet location to relax. There are plenty of sandy beaches including Psili Ammos Beach, Kampi Beach, Elidaki Beach, Petrokopeio Beach, Vlyhada Beach, and Kasidi Beach. Other main settlements are Hrysomilia and Kamaria. These fishing settlements offer limited services but are worth the trip just for the beautiful island views.
PLEASE NOTE: The Greek travel section at GreekBoston.com are not paid reviews. Our unbiased and informative travel articles are designed review the popular cities, islands and places in Greece. We are not always able to exactly match the photos to the destinations, but we do try to get close. However, we are not looking for photo submissions at this time. If you find something in a Greek travel article that is not accurate based on your personal experience, please send us an email to greekboston@worldwidegreeks.com and we will consider your suggestions. Thanks for reading the travel section at GreekBoston.com!
Categorized in: About Fourni, Greece, Greek Travel Guide
This post was written by GreekBoston.com
Share this Greek Travel Article: