Why You Should Travel to Ikaria Greece
Written by GreekBoston.com in About Ikaria, Greece, Greek Travel Guide Comments Off on Why You Should Travel to Ikaria Greece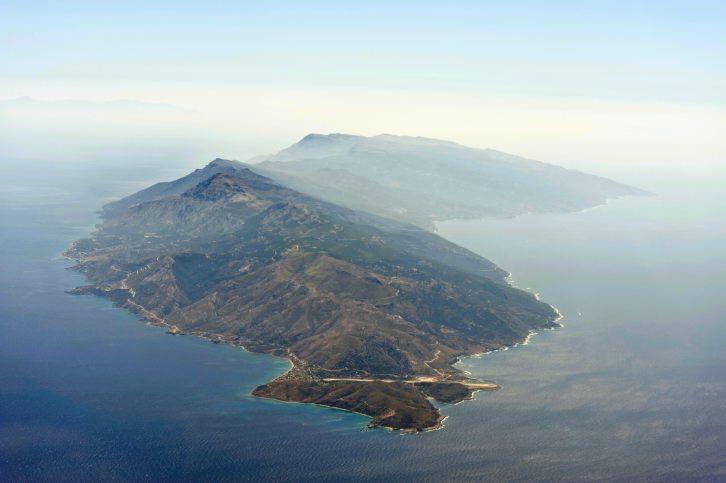 The fact that the Greek island if Ikaria is named for Icarus, the doomed son of the master craftsman, Deadalus, only adds to the dramatic nature of the island. Ikaria is also secluded, and it wasn't always looked at as a positive thing. In the past, pirates looking to escape scrutiny used the island. During the Greek Civil War, which took place after World War II, those who were part of the communist party also escaped here.
Today, however, this seclusion is a major draw for travelers who are looking for a way to escape their daily lives. Here are some very good reasons why you should consider spending your Greek vacation in Ikaria:
Enjoy the Dramatic Scenery
There's something majestic about the Ikarian scenery. Much of its appeal is due to its sheer variety. Ikaria has some beautiful beaches, and the interesting coastline makes it a haven for those looking to relax by the water or engage in various water sports, such as snorkeling. The terrain on the island is also worth exploring. Visitors can find anything from deep forests filled with gorges or a rocky, mountainous landscape that looks like it came straight from another planet. If lounging by the water isn't your thing, consider spending your time inland. There are plenty of hiking opportunities for those who enjoy a challenge!
Eat Greek Lobster
Like most of the islands in Greece, Ikaria is known for its seafood. In fact, the waters are filled with Greek lobster, a delicacy, and is a big part of the local cuisine. Lobster found in Greek waters is a little different than lobster in the United States. Greek lobster doesn't normally have claws and the flavor is a little stronger. On Ikaria, it's either served whole or turned into a pasta dish called astakomakaronada, where the lobster meat and stock are tossed with ripe tomatoes, star anise or fennel, and onions. If lobster isn't quite your thing, there are plenty of other seafood delicacies to try while visiting the island. Ask for the fresh catch at your local fish taverna!
Drink Wine
Because Ikaria is known as the birthplace of Dionysius, the god of wine, there's a rich winemaking tradition here. There are several wineries that continue the ancient tradition of producing great wine, and you're missing out if you don't accompany at least a few of your meals with the best local vintages! The climate on Ikaria is ideal for many grape varietals, but it's their red wines that really shine. Be sure to take a bottle or two home to remember your trip by!
Learn About History
Like much of Greece, Ikaria has a long history that dates back to ancient times. Remnants of this rich past can be found throughout the island. Head to Nas, near Nas Beach, to view the Temple of Artemis. History buffs will also get a nice overview of the folklore, history, and culture of Ikaria at the Folk & Historical Museum of Agios Kirikos. After spending time at the museum, you'll have enough time to explore the coastline near Agios Kirikos.
Ikaria is considered part of the fabled "Blue Zone", which refers to the places in Greece where the inhabitants are amongst the worlds healthiest. Up until the island became part of this area, it was relatively unknown by visitors. As a result, Ikaria makes for a relaxing island escape!
PLEASE NOTE: The Greek travel section at GreekBoston.com are not paid reviews. Our unbiased and informative travel articles are designed review the popular cities, islands and places in Greece. We are not always able to exactly match the photos to the destinations, but we do try to get close. However, we are not looking for photo submissions at this time. If you find something in a Greek travel article that is not accurate based on your personal experience, please send us an email to greekboston@worldwidegreeks.com and we will consider your suggestions. Thanks for reading the travel section at GreekBoston.com!
Categorized in: About Ikaria, Greece, Greek Travel Guide
This post was written by GreekBoston.com
Share this Greek Travel Article: