Imerovigli Has The Best Views In Santorini Greece
Written by GreekBoston.com in About Imerovigli, Greece, Greek Travel Guide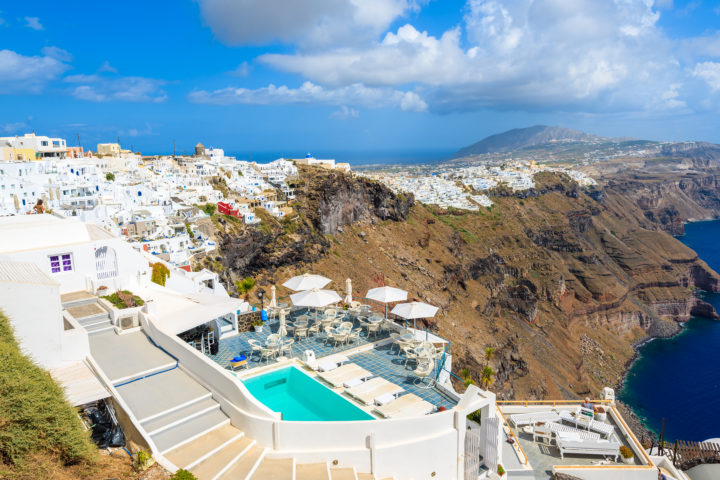 If you ask someone what the most beautiful Greek island is, and they don't tell you that it's Santorini, then they've never been to Santorini.
Santorini is home to some of the most beautiful sights in all of Greece, from the sunsets, to the beaches, to the architecture. Most pictures that are taken somewhere in Santorini are worth framing and hanging up somewhere; it's that beautiful. One of the most popular villages to visit in Santorini, if not the most popular, is Imerovigli. The village of Imerovigli is home to less than 500 people, but it draws thousands of tourists from all over the world every single year.
When traveling throughout all of the different cities, villages and islands of Greece, you'll find out that every single one of them has something special that they are known for. Whether it's a museum, a historical landmark, a bar, or maybe even a beach, there is always something that you just have to see when you visit a certain place in Greece. Well, for Imerovigli, the must-see attraction is the sunset. Crowds gather just to catch a glimpse of the sun setting into the horizon over the sea, and capture its beauty on camera. It makes for a romantic evening, and the perfect picture-taking opportunity to remember your trip.
If you're looking to take a trip to Santorini, I'm sure you've at least seen pictures of how blue the water is. As amazing it looks from land, you have to experience seeing it from out on the water. Take a cruise with Bella Aurora & Thalassa to see the amazing scenery around the island of Santorini. Bella Aurora & Thalassa offers daytime and afternoon cruises, but I strongly suggest taking the afternoon cruise so that you can witness the breathtaking sunset out on the sea, away from the crowds. These cruises are quite popular, so I would also suggest that you book your cruise in advance to reserve your spot. While you're on the cruise, you can sit out and relax on the deck, catch some sun with a delicious drink, jump in the water and go for a swim, and enjoy a meal that the crew has prepared for their guests on the cruise. It's well worth the value, and an experience that you will most certainly treasure from your stay in Santorini.
If you're up for the challenge, one of the best views on the island of Santorini requires some hiking to get to. You don't have to be in peak physical condition for this hike if you just take it slow, but just a warning that it is a hike. People use the term "breathtaking" to describe something really nice, but the view from Skaros Rock will literally take your breath away. Once you make it up there, and you stand out over the edge to look out over the cliff, you will feel like you are standing on a cloud, looking out over the water. And it's not just the view from the top that's so amazing. You'll find that your journey to Skaros Rock is almost as awe-inspiring as the view from the top. Enjoy!
PLEASE NOTE: The Greek travel section at GreekBoston.com are not paid reviews. Our unbiased and informative travel articles are designed review the popular cities, islands and places in Greece. We are not always able to exactly match the photos to the destinations, but we do try to get close. However, we are not looking for photo submissions at this time. If you find something in a Greek travel article that is not accurate based on your personal experience, please send us an email to greekboston@worldwidegreeks.com and we will consider your suggestions. Thanks for reading the travel section at GreekBoston.com!
Categorized in: About Imerovigli, Greece, Greek Travel Guide
This post was written by GreekBoston.com
Share this Greek Travel Article: