Ithaki -Charming Villages and Sites from "Odyssey"
Written by GreekBoston.com in About Kefalonia Island, Greece, Greek Travel Guide Comments Off on Ithaki -Charming Villages and Sites from "Odyssey"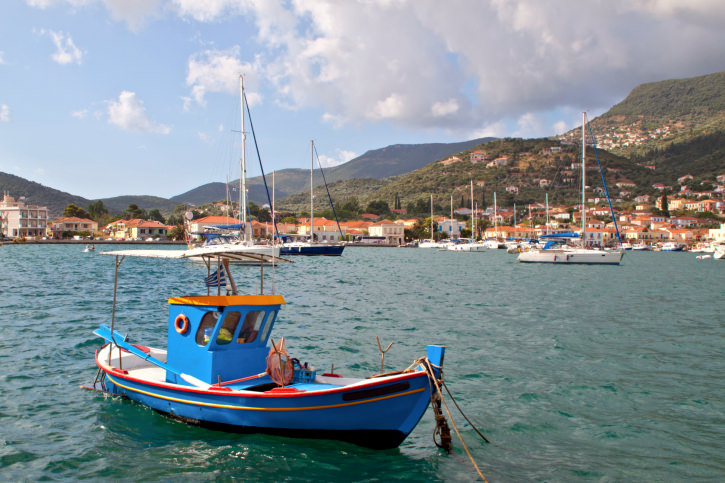 Ithaki is an Ionian island that can be found between Kefalonia and mainland Greece. It's comprised of laid-back villages spread throughout two large bodies of land joined by a narrow isthmus and an unspoiled Greek countryside. Most notably, Ithaki is celebrated as the home of Homer's Odysseus.
Vathy is Ithaki's laid-back main town located on the waterfront. Its central square, Plateia Efstathiou Drakouli, has plenty of cafes and is the only place on the island that has nightclubs, banks, travel agencies, etc. Popular places to visit in Vathy include the Archaeological Museum and the Nautical & Folklore Museum.
Boat tours take tourists from Vathy around Ithaki and to Fiskardo, Lefkada, Atokos, and Kalamos and a water taxi brings beach-goers to Gidaki Beach.
Ithaki's claim to fame is that it is home to several sites from Homer's Odyssey including 4 principal sites:
The Cave of the Nymphs
Located 2 miles northwest of Vathy, this is where Odysseus is said to have hidden the Phaeacians' gifts after he had been brought back to the Bay of Dexia. The cave is locally known as Marmarospilia.
The Fountain of Arethousa
Located 4 miles south of Vathy, this is where Odysseus' swineherd, Eumaeus, is believed to have brought his pigs to drink. It's known today as the spring of Perapigadi.
Alalkomenai
The location of Odysseus' capital has long been disputed by archaeologists. There is no conclusive evidence but Alalkomenai near Piso Aetos is one of the believed locations of the capital.
Bay of Polis
This has been claimed to be the port of Odysseus's capital.
Island Walks offers a guided "Homer's Walk" which explores little-seen parts of the island.
Other villages in Ithaki include:
Anogi
North of Vathy, Anogi is Ithaki's old capital. Highlights of the area include Agia Panagia, a restored 12th century church with incredible Byzantine frescoes and a Venetian bell tower, and Old Anogi, small ruins found uphill from town.
Stavros
Further north from Anogi, this island village is located above the Bay of Polis. Its highlight is a small archaeological museum with local artifacts dating from 3000 BC to the Roman period.
On the slopes of the Mountain of Neion, Exogi offers beautiful panoramic views of the island.
Frikes
Northeast from Stavros is Frikes, the tiny seafront fishing village of Ithaki. This is also the ferry departure point for the nearby island Lefkada so there are plenty of waterfront restaurants and bars to enjoy.
Kioni
Take a coastline drive south from Frikes to find Kioni. This picturesque seafront village has a small harbor with a few tavernas and cafes frequented by sailors.
PLEASE NOTE: The Greek travel section at GreekBoston.com are not paid reviews. Our unbiased and informative travel articles are designed review the popular cities, islands and places in Greece. We are not always able to exactly match the photos to the destinations, but we do try to get close. However, we are not looking for photo submissions at this time. If you find something in a Greek travel article that is not accurate based on your personal experience, please send us an email to greekboston@worldwidegreeks.com and we will consider your suggestions. Thanks for reading the travel section at GreekBoston.com!
Categorized in: About Kefalonia Island, Greece, Greek Travel Guide
This post was written by GreekBoston.com
Share this Greek Travel Article: