Learning to Fall in Love with Athens
Written by GreekBoston.com in About Athens, Greece, Greek Travel Guide Comments Off on Learning to Fall in Love with Athens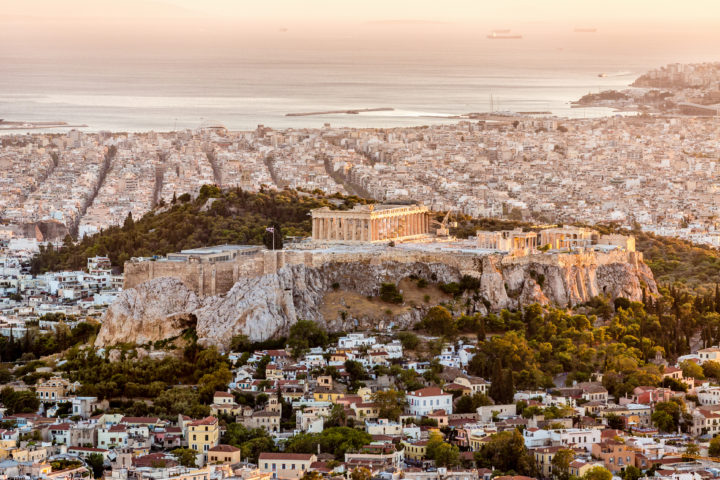 If you're travelling to Greece, you are likely going to find yourself flying into Athens International Airport – Eleftherios Venizelos. Since it is the national capital, the largest city, and an important hub for national and regional transportation, it makes sense that Athens would be the point of entry for millions of tourists and travelers alike. However one thing I never managed to understand is why Athens is not seen for more than just a transportation hub, or a day's rest before grabbing a ferry in Piraeus to go island hopping.
Sure it has the Acropolis and the Parthenon, which if for some reason people do stay in Athens longer than a day or two, is likely the first, if not only stop on their 'places to see' list. Athens was a city well before and well after the glory days of the ancient Athens we all learned about in high school. Yet, the historic city always seems to be skipped over in discussions of the great European capitals.
Unfortunately, as of recent years, the images of exploding Molotov cocktails and violent riots have come to define Athens in the minds of tourists around the world. If it is not the riots, people often say that the city is dirty, overcrowded and not worth visiting longer than it takes to snap a few pictures of the Parthenon en route to Mykonos. The fact is that Athens is not Paris, London or Rome, but that's exactly what makes it one of the coolest cities in the world.
Upon arriving in the city of Athena, the physical layout of the city and the endless blocks of apartment buildings is a bit of a culture shock. However, after realizing that Athens is literally a product of its history it all begins to make just a little more sense. The plan of the city may very well leave many tourists used to manicured central boulevards and neat grid plans scratching their heads, but considering it's one of the oldest continuously inhabited cities in the world, it's a little easier to justify. In fact Athens has been inhabited for over 7,000 years, of which 3,400 of those years are recorded historically. Today, the Athens metropolitan area as a whole has a population of over 4 million people [Greece has a population around 10.9 million], with over 660,000 people living within city limits.
After just a short amount of time in Athens, you realize that although it's a major city, it has a completely different feeling than other large cities. While American cities have their historical districts and their 'old' sites, Athens manages to blend the new and modern seamlessly with the old, older, and really old parts of the city. There is just something awesome in the way you can turn the corner in a downtown street and look up and see the Acropolis completely illuminated and in clear view above you. No matter how many times you've seen it, it seems to never fail to make you do a double take.
PLEASE NOTE: The Greek travel section at GreekBoston.com are not paid reviews. Our unbiased and informative travel articles are designed review the popular cities, islands and places in Greece. We are not always able to exactly match the photos to the destinations, but we do try to get close. However, we are not looking for photo submissions at this time. If you find something in a Greek travel article that is not accurate based on your personal experience, please send us an email to greekboston@worldwidegreeks.com and we will consider your suggestions. Thanks for reading the travel section at GreekBoston.com!
Categorized in: About Athens, Greece, Greek Travel Guide
This post was written by GreekBoston.com
Share this Greek Travel Article: