Four Must-See Greek Islands to Visit
Written by GreekBoston.com in About Mykonos, Greece, Greek Travel Guide Comments Off on Four Must-See Greek Islands to Visit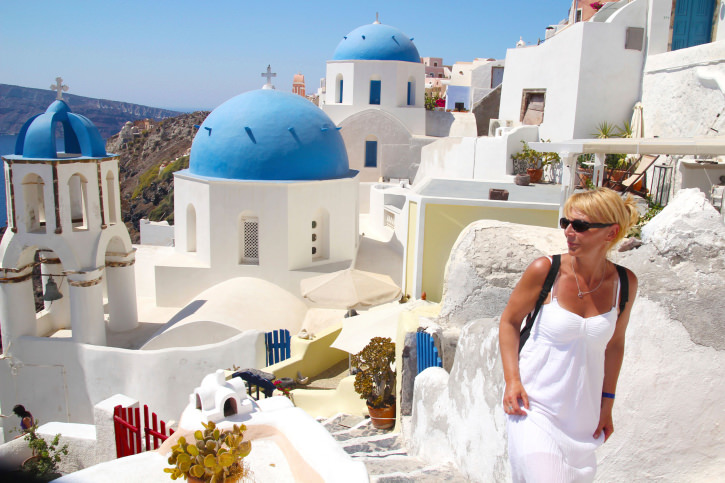 White washed buildings gleaming in the sunlight. The feeling of the warm sea breeze as you lounge by the Mediterranean Sea, the scent of wild herbs growing in the countryside. The sounds of a traditional bouzouki player as you eat your evening meal. These are all things that make the Greek islands special.
There are so many islands to visit; it can be hard to decide which ones to visit. Depending on how much time you have, you can actually visit more than one island during your stay. Island hopping options include taking a cruise or going from one island to the other by ferry or airplane. You can also choose one to focus all your attention on. However, the question remains – which island or islands should you visit?
Here are four must-see Greek Islands you need to visit on your trip to Greece!
Santorini is located in the Cyclades and though we think of it as one island, it is actually made up of five islands. The main island, which is mainly perched on the rim of a dormant volcano, is the most popular tourist attraction. Santorini is known for its amazing views, sunsets, shopping, beaches, and cuisine. It is also fabled to be the Lost Kingdom of Atlantis. You can arrive by plane, ferry, or as part of your cruise itinerary.
Even though Mykonos is known as a party island, it is so much more than that. It, like Santorini, is also located in the Cyclades. This means that it is easy to island hop between the two. Mykonos was also one of the first islands to aggressively advertise its merits as a tourist destination. As a result, it attracted an international crowd of wealthy people who were looking for a good time. Today, tourists can still enjoy the parties, but they can also take in the culture, beaches, and shopping.
Crete is one of those islands that is large enough to spend your entire vacation. It is also a popular stop on many cruises. The island offers a variety of activities such as hiking, shopping, sitting at the beach, and also boasts a good nightlife scene. On your stay, consider hiking through the Samaria Gorge or exploring some of the other trails the island has to offer. History buffs are also happy here. There are several impressive examples of Ancient Minoan Culture, such as the ruins at Knossos near Heraklion.
Even though Patmos is often considered "off the beaten path", it is also a popular enough destination to make it on several cruise itineraries. This island is most famous for its Biblical significance. It is here that the Apostle John wrote the Book of Revelations and the monastery at Hora is still standing. However, that's not all the island has to offer. Its beaches are considered amongst the best in Greece. The only way to get to the island is by boat. Consider flying to Kos, the closest island with an airport, and take the ferry if you don't want to take a cruise.
These four destinations offer a nice variety of what the Greek islands have to offer. You can fashion a trip that includes all of them, or just select those that interest you. It is also possible to enjoy one island for the duration of our stay.
PLEASE NOTE: The Greek travel section at GreekBoston.com are not paid reviews. Our unbiased and informative travel articles are designed review the popular cities, islands and places in Greece. We are not always able to exactly match the photos to the destinations, but we do try to get close. However, we are not looking for photo submissions at this time. If you find something in a Greek travel article that is not accurate based on your personal experience, please send us an email to greekboston@worldwidegreeks.com and we will consider your suggestions. Thanks for reading the travel section at GreekBoston.com!
Categorized in: About Mykonos, Greece, Greek Travel Guide
This post was written by GreekBoston.com
Share this Greek Travel Article: