Escape the Athens Heat at the National Garden
Written by GreekBoston.com in About Athens, Greece, Greek Travel Guide Comments Off on Escape the Athens Heat at the National Garden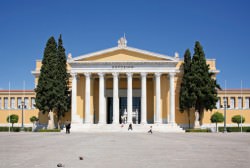 The National Garden of Athens is a popular destination for both Athenians and tourists that are looking for a cool place to escape the city heat. It's a quiet and peaceful place away from the bustling city and busy streets. The 40-acre park is located to the south of the Parliament Building and extends south to where the Zappeion is located.
The National Garden was formerly known as the Royal Garden since it was previously owned by the royals. It was originally planted in 1839 to be the palace garden for Queen Amalia. She ordered the Greek Navy to bring 15,000 exotic plants from around the world. Many of these original plants still flourish today. The garden was landscaped by Prussian horticulturalist Friedrich Schmidt, who traveled the world in search of rare plants.
The Royal Garden was renamed to the National Garden when the City of Athens took over ownership and the garden became public in 1923. It's known as one of the most peaceful spots in the city and is cherished by Athenians. In 1939 famed American writer Henry Miller said this of the National Garden:
"It remains in my memory like no other park I have known. It is the quintessence of a park, the thing one feels sometimes in looking at a canvas or dreaming of a place one would like to be in and never finds.
Seeing lovers sitting there in the dark, drinking water, sitting there in peace and quiet talking in low tones gave me a wonderful feeling about the Greek character. The dust the heat, the poverty, the bareness, the contentedness of the people, and the water everywhere in little tumblers standing between the quiet, peaceful couples, gave me a feeling that there was something holy about the place, something nourishing and sustaining."
The garden features many shady paths that are perfect for strolls at any time of day. Visitors can find small squares, numerous park benches to relax on, and ponds filled with goldfish. There are remains of Roman mosaics, an old aqueduct, and modern sculptures of writers including Dionysios Solomos, Aristotelis Valaoritis, and Jean Moreas. The garden has also become known for its large feral cat population.
Attractions within the garden include a small botanical museum, a zoo, a duck pond, and a playground for children. There are also cafes to enjoy if you get hungry. Just south of the park is the Zappeion ancient congress hall that was built in the 19th century. Today it serves as an exhibition hall that is used as a conference center.
The garden is free to the public and is open daily from dawn to dusk.
Categorized in: About Athens, Greece, Greek Travel Guide
This post was written by GreekBoston.com
Like this article? Please share below: