Come See Nidri Waterfalls In Lefkada
Written by GreekBoston.com in About Lefkada, Greece, Greek Travel Guide Comments Off on Come See Nidri Waterfalls In Lefkada
Located on the east coast of the island of Lefkada is where you will find Nidri (also known as Nydri), one of the most popular tourist towns on the whole island.
When tourists come to Nidri, they will quickly learn that the number one tourist attraction here is Nidri Waterfalls. It takes a little bit of hiking to get to, so you're going to want to prepare in advance for such a trip — especially in the footwear department — but once you get there, you will soon discover why it is such a popular destination on the island. When the hot summer sun is too much to bear, the water at Nidri Waterfalls is extremely refreshing and the perfect place to come cool off. The earlier you go, the less crowded it will be. There's actually a bar on your way back, if you and your guests wanted to stop for a drink as well. Don't forget to bring your camera, as visiting Nidri Waterfalls is a can't-miss photo opportunity.
Sure, roughing it and exploring Nidri on foot can be an exciting experience, but there is so much to see that you might want to choose a method to speed up your travel time a little bit. That's why you should look up Get Active! Day Tours when you're in Nidri so that you can see all of the amazing scenery that the town has to offer. Trust me; you will not want to miss this! If you're not the fitness biking type, don't worry! This company is extremely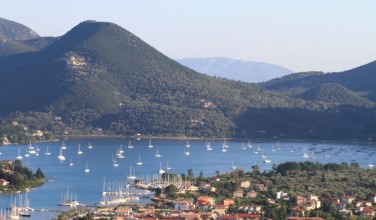 professional, and they want all of their customers to enjoy their experience, so they created different levels of biking intensity so that anybody can join in on the fun. The bikes that the company uses are really high quality, and you will surely be impressed with how well they handle the trails.
If biking tours aren't particularly your thing, then perhaps a boating tour might be more up your alley. If that's the case, boy do you have some options on your hands. Despite having several options when it comes to boating tours in Lefkada, there are two companies in particular who have always gotten rave reviews for their excellence within the tourism industry. The Odysseia Boat Tour has a fantastic reputation of providing excellent service to tourists looking to explore the outskirts of Lefkada. On this boat tour, you will be able to visit several Greek islands and villages, getting the opportunity to taste different Greek dishes and experience different Greek culture, all while learning all several aspects of Greek history. It truly is a tremendous value to take one of these tours.
The next best option is taking a boat tour with the M/S Christina. This cruise is perfect for those who are looking to relax and enjoy the perfect day. The M/S Christina doesn't carry a large quantity of passengers, usually taking on a maximum of 50 passengers, which makes for a peaceful environment. The boat tour stops about four times for swimming breaks so that passengers can enjoy a nice dip in the crystal clear turquoise water. The crew even prepares a fantastic lunch, served with wine right there on the boat!
PLEASE NOTE: The Greek travel section at GreekBoston.com are not paid reviews. Our unbiased and informative travel articles are designed review the popular cities, islands and places in Greece. We are not always able to exactly match the photos to the destinations, but we do try to get close. However, we are not looking for photo submissions at this time. If you find something in a Greek travel article that is not accurate based on your personal experience, please send us an email to greekboston@worldwidegreeks.com and we will consider your suggestions. Thanks for reading the travel section at GreekBoston.com!
Categorized in: About Lefkada, Greece, Greek Travel Guide
This post was written by GreekBoston.com
Share this Greek Travel Article: