Aerial Athens Stop to See: Philopappou Hill
Written by GreekBoston.com in About Athens, Greece, Greek Travel Guide Comments Off on Aerial Athens Stop to See: Philopappou Hill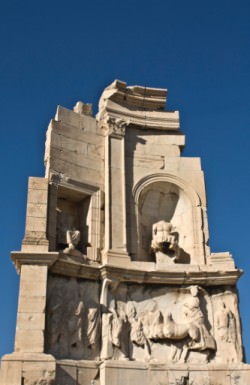 Philopappou Hill [Grk: Λόφος Φιλοπάππου] also known in ancient times as the "Hill of the Muses" is adjacent to the Acropolis as well as the Areopagus Hill. The marble Philopappos Monument sits atop this shady, tree-covered hill. It dates back to ancient times and memorializes Philopappos who was one of the most prominent Greeks in the Roman Empire.
Philopappou Hill is surrounded by the neighborhoods of Ano Petralona, Koukaki, and Makrygianni. Several paths lead through the wooded areas up the hill to reach the top and the monument. Although it is located in central Athens, Philopappou and the surrounding area offers a tranquil change of pace from the hustle and bustle of the city around it. In fact, while travelling through the woods thick with trees, it is very possible you might even forget that you are in the middle of a city of almost four million.
Once you reach the summit, the view of the Acropolis and Parthenon from the top of Philopappou is arguably the very best the city has to offer. The scene is spectacular whether you see it during the day, during sunset or at night when the entire Acropolis and its monuments are lit up. Mount Lykavittos, which itself is also illuminated at night, rises prominently behind the Acropolis to form a perfect backdrop. It is from this spot that you see the Acropolis with all of its buildings in view, the very same scene that is plastered all over postcards and history books throughout the world.
In addition to the breathtaking views and ancient monument to Philopappos, on the far side of the hill, facing towards Petralona is the open-air theater for the Dora Stratou Dance Theater. The Dora Stratou Company is one of the most famous and prestigious Greek folk dance groups in the world. They have an impressive collection of traditional Greek costumes, and from late May until late in September they give frequent performances showcasing dances from many regions in Greece.
For a good dose of culture, gorgeous views and tranquility a visit to Philopappou Hill is a must while in Athens. Plus, if it is one way to make all of your friends on Facebook and Instagram jealous, a picture of the Acropolis from Philopappou will certainly do it.
How To Get There
The closest metro station to the hill is the Akropoli Station on the Red Line [Line 2] where the hill can be reached by walking past the Acropolis via the pedestrianized Dionysiou Areopagitou Street. Coming from the neighborhood of Thisseio, the paths up the hill can be reached by following the pedestrianized Apostolou Pavlou Street.
Categorized in: About Athens, Greece, Greek Travel Guide
This post was written by GreekBoston.com
Like this article? Please share below: