Plenty To Explore In the Port City of Volos
Written by GreekBoston.com in About Thessaly, Greece, Greek Travel Guide Comments Off on Plenty To Explore In the Port City of Volos
Volos is a port city on the Greek mainland, in the region of Thessaly, and it also happens to be the newest port city in Greece, which features many modern buildings as a result of being so new.
The reason for Volos being so relatively new and modern looking is that the city had to rebuild after a devastating earthquake destroyed most of the city in 1955. While that earthquake is a big piece of the history in Volos, the history of this city goes back much, much further than that, and you can see just what I'm talking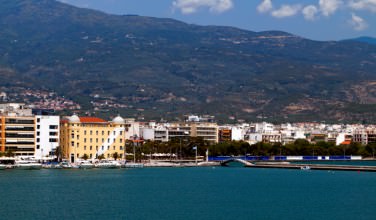 about at the Athanasakeion Archaeological Museum of Volos. While 1955 may seem like a long time ago to some of us, there are artifacts at this museum that can be dated as far back as 6,000 B.C. This museum has plenty of different artifacts, such as pottery, statues, weapons, and ancient forms of currency. Each exhibit contains information that is listed in both Greek and English. This museum gives great perspective into how the people of this area lived during the time in which they did.
Getting around Volos can be tricky, so that's why we suggest using Volos VIP Taxi Service for private transfers and day trips. This service is excellent, because the driver is so incredibly knowledgeable about the area. He will take you the scenic route to your destination, giving you information about each site that you see and then some. He'll also recommend other great places to visit while you are in Volos, and he can most certainly take you there. The driver also knows all the best locations for all of the best angles for picture taking. It will cost you a little more than the tour busses, but it is totally worth it for everything that comes with this service.
As much as there is to see on land, you know you are going to have to get in the water at some point when you are visiting a port city. There is no better way to get out on the water than with Eclipse Sailing Private Day Boat Trips. If you go with this company, there's a good chance you'll be sailing on the Nereida, which is a two-masted classic yacht. The way that the boat was constructed allows for a smooth sail, regardless of wind conditions and/or choppy waves. You'll go sightseeing on some of the most beautifully clear-blue water you've ever seen, and the crew will anchor down for a couple of hours for everyone to go swimming before a full lunch is served. This trip is definitely worth the investment!
The most popular beach in Volos is Horefto Beach, a sandy beach that extends long past where the eyes can see. The spacious beach is perfect for any kind of beach games, like volleyball, to be played, and is a great beach for kids. There are also a decent amount of bars, restaurants and shops in close proximity.
One last suggestion, if you're looking for a unique, yet extremely fun, experience, you have to check out Mafia's Secrets – Escape Rooms. If you've never heard of an escape house before, it's basically what it sounds like. Each room in the house has a different theme or game, and the mission for each room is to solve the puzzles, mysteries and riddles in that particular room, which will allow you and your group to escape the room. At this particular escape house in Volos, the games are all mafia themed. The games are timed — usually about an hour per game — but you'll be wishing the games never ended!
PLEASE NOTE: The Greek travel section at GreekBoston.com are not paid reviews. Our unbiased and informative travel articles are designed review the popular cities, islands and places in Greece. We are not always able to exactly match the photos to the destinations, but we do try to get close. However, we are not looking for photo submissions at this time. If you find something in a Greek travel article that is not accurate based on your personal experience, please send us an email to greekboston@worldwidegreeks.com and we will consider your suggestions. Thanks for reading the travel section at GreekBoston.com!
Categorized in: About Thessaly, Greece, Greek Travel Guide
This post was written by GreekBoston.com
Like this article? Please share below: