Sifnos is Full of Hidden Charms
Written by GreekBoston.com in About Sifnos, Greece, Greek Travel Guide Comments Off on Sifnos is Full of Hidden Charms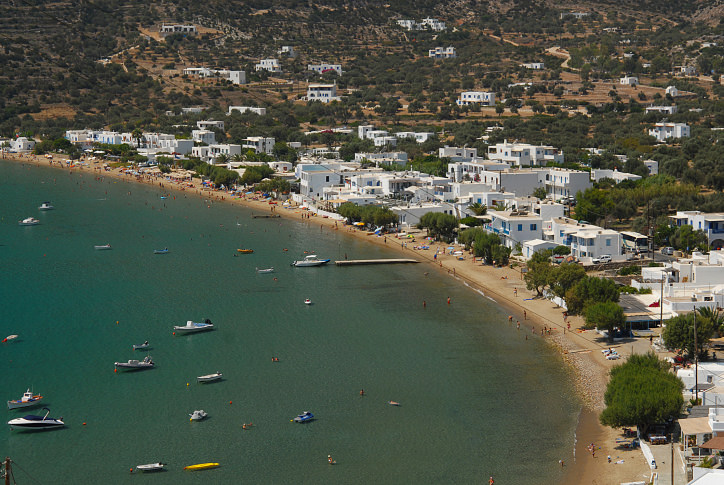 Mountainous Sifnos is often considered the most beautiful island of the western Cyclades and is full of hidden charms. The island is made for walking along its distinctive, unspoiled flagstone and marble paths that link each village and wind through olive groves, almond trees, and gentle slopes covered with aromatic herbs. Sifnos is a longtime favorite vacation spot for Athenians and more recently has become a popular destination among European tourists.
The island's main port, Kamares, is made for tourists looking for a beach vacation. Its large beach is lined with a busy road that has many waterfront cafes, tavernas, and a variety of shops.
Three miles inland from Kamares at the edge of a plateau you'll find Apollonia, the capital of Sifnos and its main settlement, which was named after Apollo. The central square of Apollonia is the transportation hub of the entire island and is usually busy with constant traffic. Away from the main road, pedestrians can enjoy the many cafes, bars, clubs, shops, and eateries in Apollonia. The Museum of Popular Art, a quirky museum that contains a collection of old costumes, pots, textiles, and photographs, can be found here.
Just one mile away from Apollonia is the scenic village of Kastro, one of the best-preserved medieval towns in the Cyclades. This cliff-top village was built on the dramatic site of an ancient acropolis and is the former capital of Sifnos. Its Archaeological Museum contains a collection of pottery and sculpture found on the island, which has a tradition of pottery making, basket weaving, and cooking. You can take a bus from Apollonia to Kastro but if you really want to get a feel for the area you can walk along the scenic path. On your walk you'll pass the gallery of Athens artist and jeweler "Maximos" Panagiotis Fanariotis, who specializes in homemade jewelry in gold and silver motifs.
Just south of Apollonia you'll find one of the island's top sights, the newly excavated site of the Acropolis of Agios Andreas. This site dates from the Mycenaean period and has most of its defensive walls intact. A small museum displays local pottery. The best part of the Acropolis of Agios Andreas is its amazing view of nearly all of Sifnos and nearby islands.
There are many other smaller villages that are also worth visiting. Artemonas, one mile north of Apollonia, features streets lined with 19th century mansions built by wealthy Siphnian ship owners. Platys Gialos is known for its large beach and plentiful tavernas and shops. Faros is a tiny fishing village with nice beaches. Vathy, on the west coast, is known for its low-key vibe.
There are plenty of beaches to choose from on Sifnos. Platys Gialos is the longest beach in the Cyclades and can be very crowded during peak season. Apokofto offers good swimming and Vathy, one of the best beaches on the island, features Sifnos's first upscale resort, Elies, which opened in 2005.
Prophet Elijah's feast day, held in late July, is one of the most important religious holidays on Sifnos. The celebration begins with a mass outing to the monastery of Profitis Elias and continues through the night with dining and dancing.
PLEASE NOTE: The Greek travel section at GreekBoston.com are not paid reviews. Our unbiased and informative travel articles are designed review the popular cities, islands and places in Greece. We are not always able to exactly match the photos to the destinations, but we do try to get close. However, we are not looking for photo submissions at this time. If you find something in a Greek travel article that is not accurate based on your personal experience, please send us an email to greekboston@worldwidegreeks.com and we will consider your suggestions. Thanks for reading the travel section at GreekBoston.com!
Categorized in: About Sifnos, Greece, Greek Travel Guide
This post was written by GreekBoston.com
Share this Greek Travel Article: