Symi: The Jewel of the Dodecanese
Written by GreekBoston.com in About Symi, Greece, Greek Travel Guide Comments Off on Symi: The Jewel of the Dodecanese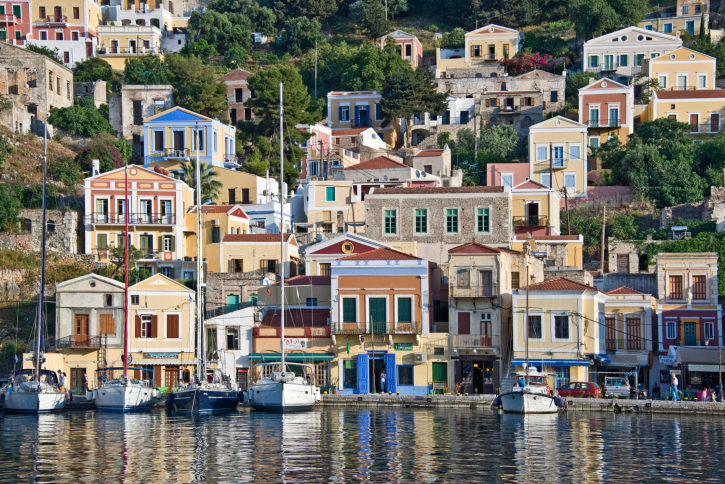 Symi, 27 miles north of Rhodes, has been called "the jewel of the Dodecanese". Symi has many sights to see, nice beaches, and is considered a quiet, peaceful retreat for travelers. Its main towns have just a few thousand inhabitants.
Visitors arrive by boat in Yialos, Symi's main port that accommodates visitors on one-day excursions from Rhodes town or by commercial boat. Yialos's shore is lined with mansions that have been converted into cafes. The stylish village is sought after by day-trippers and wealthy tourists.
Sights of Yialos include the Church of Ayhios Ioannis, which was built in 1838 and surrounded by a plaza paved in an intricate mosaic and fashioned from inlaid pebbles, and they Symi Naval Museum. The Naval Museum is located in an ornamental blue and yellow building that can't be missed. It's a landmark on Yialos Harbor. It offers a good look at life in Symi in the 19th and early 20th centuries and includes sponge-diving tools, model ships, antique navigation tools, and vintage anchors.
From Yialos, visitors can make the 10-minute walk from the main harbor up to the hilltop town of Chorio along a staircase comprised of about 400 steps known as Kali Strata (Good Steps). This staircase isn't recommended for everyone, especially in the hot summer months. Instead, a road can be traveled by bus or taxi to reach Chorio.
Chorio is a 19th century town full of neoclassical mansions on the hillside above the harbor. Its Archaeological and Folklore Museum displays Hellenistic and Roman sculptures and inscriptions as well as more-recent carvings, icons, costumes, and handicrafts. Another site is the Chatziagapitos Mansion, a restored home of a wealthy 18th century merchant that provides a look at life in Symi under Ottoman rule. The Kastro, castle, on the hilltop provides views of both sides of the peninsula and the villages of Yialos and Pedi, a fishing village, below.
Just south of Chorio is the Monastery of Taxiarchis Michael Panormitis, Symi's biggest attraction. Dedicated to Symi's patron Saint Michael, the protector of sailors, it occupies most of the shore of Panormitis Bay. The monastery complex comprises a Byzantine museum, a bakery, and restaurant-café. Accommodation is available at the guesthouse. The Monastery is popular with Greeks as a place of pilgrimage and refuge. It is at its busiest during the week leading up to November 8, Michael's feast day.
Symi is also known for the Symi Festival, which is held from June through September each year. The festival features free dance, music, theater performances, and cinema screenings. Most Festival events take place in the main harbor square in Yialos but some are held in other historic places around the island.
If you plan to visit Symi, you should know that it has no natural source of water. All water is transported by boat from nearby islands. People on the island are asked to conserve water, and you might want to bring your own.
PLEASE NOTE: The Greek travel section at GreekBoston.com are not paid reviews. Our unbiased and informative travel articles are designed review the popular cities, islands and places in Greece. We are not always able to exactly match the photos to the destinations, but we do try to get close. However, we are not looking for photo submissions at this time. If you find something in a Greek travel article that is not accurate based on your personal experience, please send us an email to greekboston@worldwidegreeks.com and we will consider your suggestions. Thanks for reading the travel section at GreekBoston.com!
Categorized in: About Symi, Greece, Greek Travel Guide
This post was written by GreekBoston.com
Share this Greek Travel Article: