Why You Should Visit Thasos
Written by GreekBoston.com in About Thasos, Greece, Greek Travel Guide Comments Off on Why You Should Visit Thasos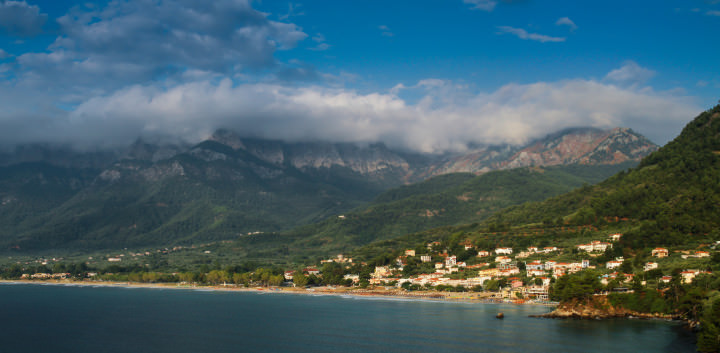 Thasos is an island in Greece that is in the northern part of the Aegean Sea. On the surface, it looks like it can deliver a fairly typical Greek island experience. There are beaches, opportunities for nightlife, places to shop, and plenty of things to do that will keep any visitor happy. However, there is so much more to the island than that. Before visiting, it helps to understand what it is that truly makes Thasos unique. Here are some of the highlights:
Natural Beauty
One of the things that Thasos is known for is its rich natural beauty and has been long hailed as one of the most verdant of all the Greek islands. One thing that stands out are the rolling hills, gentle mountains, and rich forests that permeate throughout the island. The climate itself doesn't hurt either. It's one of those places that mirror the temperate climate of Northern Greece while still offering a beautiful island escape. You'll also want to make time to visit the waterfalls at Skala Potamias where you can take a dip in the warm pool of mineral water at the base of the falls.
Sandy Beaches
Unlike some places in Greece, the beaches on Thasos are filled with sand, not pebbles. While the pebbled beaches found elsewhere are certainly unique, they don't necessarily provide the ideal beach experience. Thasos, on the other hand, is a beach lover's paradise. The soft sand, warm water, and beautiful weather make it an ideal place to enjoy what the sea has to offer. For the best beach experience possible, be sure to visit Golden Beach, Matalia Beach, and Paradise Beach.
Rich History
Like many places in Greece, Thasos can trace its roots back to ancient times. The Thasos Town Museum of Archaeology is a great place to learn about this history, too. Even though the museum is on the small side, it houses an impressive amount of artifacts that will give you valuable insights in the ancient inhabitants. For a glimpse at another part of the island's history, visit the Palace in Limenaria in Thasos, which is a throwback from the old mining days on the island.
Excellent Shopping
If you love shopping, there are some unique finds that are worth seeking out. At Costis Pottery, which is located in Thasos Town, is a beautiful shop where you can buy handcrafted, traditional pottery, much of which is created using ancient methods. There are also plenty of jewelry shops scattered throughout the island, many of which have pieces where the gold was mined right on the island!
Thasos is the perfect island to visit if you want a peaceful island escape. The island is so filled with natural beauty that you can spend weeks exploring the various nooks without truly seeing it all. Spend your days exploring the unique diversity of the island while also enjoying the famous cuisine and hospitality. This is an island that the whole family will enjoy!
Categorized in: About Thasos, Greece, Greek Travel Guide
This post was written by GreekBoston.com
Like this article? Please share below: