Visit Skyros to Get Away from the Crowds
Written by GreekBoston.com in About Skyros, Greece, Greek Travel Guide Comments Off on Visit Skyros to Get Away from the Crowds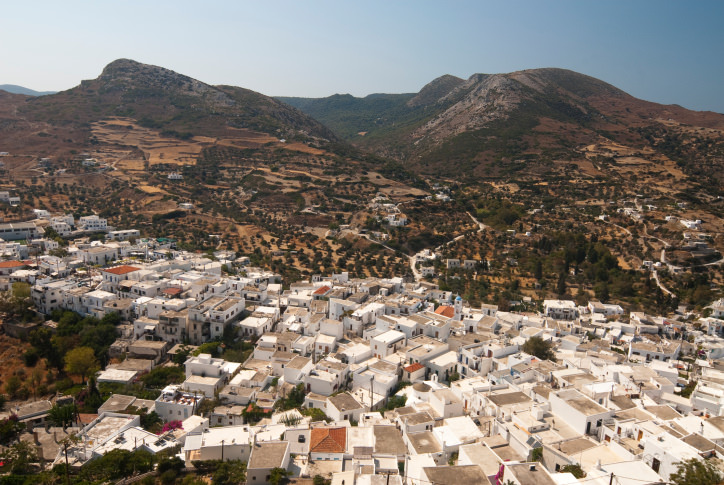 Skyros, located right in the center of the Aegean Sea, is the largest and southernmost island of the Sporades group. It's a fairly remote island that is a perfect destination for tourists that are looking to spend some time away from the crowds.
Skyros can seem like two separate islands since the northern half and southern half are very different. The island is divided fairly evenly, by it's narrow waist. The northern half is fertile and covered with pine forest while the southern half is barren. The best beaches can be found in the north and if you enjoy hiking, head to the northwest where the rocky shore opens onto gentle bays and coves.
The capital, Skyros Town (or Orio or Hora to locals on the island) was built on a rocky bluff overlooking the sea and is home to 90% of the island's 3,000 inhabitants. It has a Cycladic feel to it and is comprised of whitewashed houses that were built nearly on top of each other. The winding streets of Skyros Town are too narrow for cars so the city must be walked.
Skyros has preserved many local customs and dress, better than many other locations in Greece. While visiting Skyros it's common to see older men wearing traditional baggy blue pants, black caps, and leather sandals and older women wearing long head scarves.
If you're lucky enough to be visiting at the right time of year, you will be able to witness the Carnival of Skyros, a 21 day Carnival celebration that is highlighted by a 4 day period leading up to Lent and Kathari Deftera (Clean Monday). Celebrations during the Carnival include singing and dancing, performances of plays, recitations of satirical poems, and much drinking and feasting on meatless food.
The most popular museum on Skyros is The Faltaits Historical and Folklore Museum. The museum is located in an old house belonging to the Faltaits family, one of the most impressive houses in Skyros Town that was built after Greek Independence. It contains the private collection of Manos Faltaits and contains a large and varied selection of plates, embroidery, weaving, woodworking, and clothing as well as many rare books and photographs including some of local men in traditional costumes for the Carnival of Skyros. Attached to the museum is a workshop where artisans make lovely objects using traditional patterns and materials. For a week in July, The Faltaits Historical and Folklore Museum hosts a rembetika music festival that celebrates Greek blues.
Another recommended site in Skyros to visit is the Monastery of St. George, located at the highest point in town. The Monastery of St. George was founded in 962 and rebuilt in 1600. The ornate iconostasis inside of the monastery is considered a masterpiece. Today, a sole monk inhabits it.
If you happen to be visiting in mid-September, you might be there for the annual half marathon that starts in Atsits and ends at the town square in Skyros Town. Even if you don't participate in the half marathon, it is followed by music and dancing that everyone can enjoy.
PLEASE NOTE: The Greek travel section at GreekBoston.com are not paid reviews. Our unbiased and informative travel articles are designed review the popular cities, islands and places in Greece. We are not always able to exactly match the photos to the destinations, but we do try to get close. However, we are not looking for photo submissions at this time. If you find something in a Greek travel article that is not accurate based on your personal experience, please send us an email to greekboston@worldwidegreeks.com and we will consider your suggestions. Thanks for reading the travel section at GreekBoston.com!
Categorized in: About Skyros, Greece, Greek Travel Guide
This post was written by GreekBoston.com
Share this Greek Travel Article: