Museums to Visit in Paros, Greece
Written by Greek Boston in About Paros, Greece, Greek Travel Guide Comments Off on Museums to Visit in Paros, Greece
The island of Paros, part of the Cyclades group, is located in the Aegean Sea. Paros is considered one of the most beautiful islands in the Cyclades with its whitewashed houses, cobblestone alleys, blue-domed chapels, and breathtaking turquoise waters.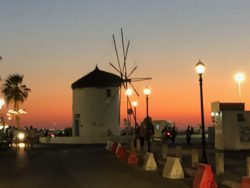 The island of Paros' began to be inhabited 5,000 years ago and the history is evident in the archaeological sites, deserted marble quarries, castles, monasteries, and cultural monuments. A wonderful way to experience the history and other important aspects of Paros, Greece is by visiting the museums of the island.
Archaeological Museum of Paros
The Archaeological Museum of Paros was established in 1960. It is housed in the high school of Paros and is one of the most important museums in all Greece because it contains finding from excavations in Paros and Antiparos. These findings date from the Neolithic period to early Christianity. Some important exhibits at the Archaeological Museum of Paros include: an Archaic marble statue of Gorgon, a marble statue of Nike, a marble statue of an enthroned goddess, and a neolithic figurine of a woman sitting with her legs crossed. If you have limited time to see museums in Paros, Greece this one should definitely be on your must-see list.
Wine Museum of Paros
The Wine Museum of Paros was established in 1910 in the lovely town of Naoussa. The museum has been passed from generation to generation and renovated along the way. Since 2001, the museum has house a winery that includes a winemaking center and production and storage areas. There are underground cellars as well as a wine tasting hall. The museum was created present the history of winemaking in Paros and preserve the authentic character of local vineyards. The creator of the museum was Manolis Moraitis who was a third-generation winemaker. Moraitis Winery owns a large organic vineyard in a fertile area of the island. They produce wines including: Assyrtiko, Mandilaria, and Malagouzia.
Byzantine Art Museum of Paros
Located in the village of Naoussa, the Byzantine and Post-Byzantine Art Museum houses worship articles, woodcut items, sculptures from the Roman and Venetian periods, icons painted by Cretan and Parian icon painters from the 12th and 13th centuries, and a preserved fresco from a 12th century Byzantine church. One of the most important items at the museum include the Virgin Mary holding baby Jesus. The museum is housed in a building that used to be a catholic school during Turkish rule.
Folklore Museum of Skorpios
Located in Aliki, the Folklore Museum of Skorpios houses a collection of miniature fishing boats, ships, and sailing boats. Artists Benetos Skiadas crafted these miniatures. The museum exhibits models of a traditional coffee-house, a Parian house, a blacksmith's shop, traditional weaving equipment, and a windmill. You can also see famous Greek buildings, the Caldera of Santorini, and the Cave of Antiparos. The museum is located within a lovely area of gardens.
Other museums in Paros include a sculpture museum and a Byzantine museum. Paros, Greece will not disappoint museum lovers.
PLEASE NOTE: The Greek travel section at GreekBoston.com are not paid reviews. Our unbiased and informative travel articles are designed review the popular cities, islands and places in Greece. We are not always able to exactly match the photos to the destinations, but we do try to get close. However, we are not looking for photo submissions at this time. If you find something in a Greek travel article that is not accurate based on your personal experience, please send us an email to greekboston@worldwidegreeks.com and we will consider your suggestions. Thanks for reading the travel section at GreekBoston.com!
Categorized in: About Paros, Greece, Greek Travel Guide
This post was written by Greek Boston
Share this Greek Travel Article: