About Santorini, Greece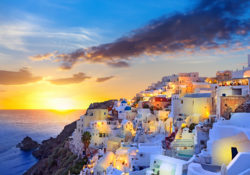 Santorini Island is officially known as Thira. It is an island in the southern Aegean Sea. The island was the site of the Minoan eruption, one of the largest volcanic eruptions recorded in the world. The eruption occurred approximately 3,600 years ago during the height of Minoan civilization.
The myth of Atlantis has been linked to Santorini Island. The archaeological, seismological, and vulcanological evidence seems to weight heavily in favor of this. The shape of the island pre-eruption as well as the landscape frescos both resemble the descriptions in Plato's Atlantis.
During the Medieval period, Santorini Island would be ruled by the Romans just as many other Greek territories were. When the Roman Empire was divided the island was passed to the eastern side of the empire, which is now known as Byzantine Empire. Santorini Island would later be raised by the Turks and then come under Ottoman control. Santorini Island would be captured for a short time by the Russians, but then returned to the Ottoman's control. In 1831, Santorini Island would become part of the Greek state and the next year would become part of the independent Kingdom of Greece.
The island of Santorini has a longstanding wine industry, which is based around Assyrtiko, an indigenous grape variety. Two other Aegean varietals are also cultivated on Santorini Island: Athiri and Aidani. The volcanic soil found on Santorini Island makes for especially unique tasting grapes and wine.
Rain on Santorini Island is rare from mid-spring to mid-autumn and there are no rivers running through the island. Thanks to the unique climate, as well as the soil, Santorini Island produces equally unique and delicious produce such as cherry tomatoes, white eggplant, and large cucumber.
Administrative Region of Santorini Island, Greece
South Aegean
Area of Santorini Island, Greece 
90.69 km2
Population of Santorini Island, Greece
15, 550
Top Attractions in Santorini Island, Greece
INTERESTING ARTICLES ABOUT SANTORINI, GREECE: