Visit the Orthodox Metropolitan Cathedral in Santorini
Written by GreekBoston.com in About Santorini, Greece, Greek Travel Guide Comments Off on Visit the Orthodox Metropolitan Cathedral in Santorini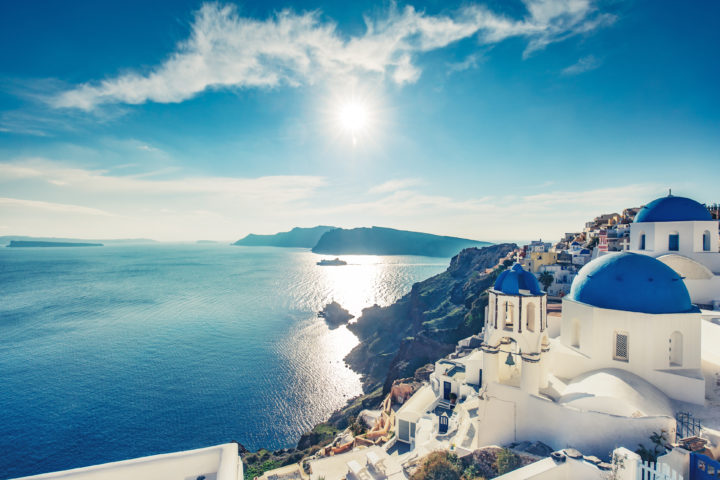 The Greek island of Santorini will inspire and excite you. The beautiful sunsets and unique local wines add magic to any romantic holiday. Families will get a thrill out of the caldera, beaches of red and black pebbles, and castles. When visiting Santorini, you will want to see the Orthodox Metropolitan Cathedral at the center of Fira.
Getting to the Orthodox Metropolitan Cathedral
You can get to the island of Santorini by ferry or by plane. From the Santorini airport to Fira you can take the bus, which will take you to the main bus station in Fira village.Once on the island you can get The Orthodox Metropolitan Cathedral is located in Fira, just a 3-minute walk from the central bus station and a private parking lot. You can also get around the island by rented car if you prefer to explore the island at your own pace.
About the Orthodox Metropolitan Cathedral in Santorini
Built in 1827, the Orthodox Metropolitan Cathedral on the island of Santorini is located toward the bottom of the town of Fira. Its spot allows it to be seen from many spots around Santorini. The view from the Orthodox Metropolitan Cathedral offers a view of the volcano of Santorini and the caldera.
The Orthodox Metropolitan Cathedral is white with beautiful mosaics on the outside. Inside there are lovely frescoes that were created by a local artist by the name of Christoforos Asimis. Christoforos Asimis was born in Santorini and studies sacred painting and painting at the Fine Art School of Athens University. He graduated in 1970 with honors. The cathedral also features a bell tower and rolling arches that create a tranquil courtyard.
In July of 1956, the island of Santorini was devastated by a 7.7 magnitude earthquake. When the shaking ceased, more than 300 buildings were completely destroyed and more than 1,000 others were damaged. One of the damaged buildings included the Orthodox Metropolitan Cathedral of Santorini. Soon after the earthquake, the cathedral was renovated.
Visit the Orthodox Metropolitan Cathedral
When on the island of Santorini, the Orthodox Metropolitan Cathedral is hard to miss. Since you can see if from many different spots, it will draw you in with its size and beauty. Inside the cathedral, soft background music is often played adding to the ambiance of the surroundings. Look to the stunning ceiling to enjoy more beauty. The cathedral is a wonderful way to experience the religious history of the island. When visiting the Orthodox Metropolitan Cathedral, it's important to remember that you are entering a religious space, so be sure to remove your hats and dress modestly.
While in Fira visiting the Orthodox Metropolitan Cathedral, you may enjoy exploring the port (Gialos), which was the main port of Santorini for a long time. Today it is used for cruises and boats that take passengers to tour the volcano.
When visiting the Greek island of Santorini, be sure to visit the Orthodox Metropolitan Cathedral.
Categorized in: About Santorini, Greece, Greek Travel Guide
This post was written by GreekBoston.com
Like this article? Please share below: