About Mykonos, Greece
According to Greek mythology, Mykonos Island was named after its first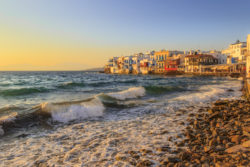 ruler (Mykonos), the son or grandson of Apollo. The island was the site of a battle between Zeus and Titans. It's also said to be the location where Hercules killed invincible giants having been able to lure them away from Mount Olympus.
Mykonos Island's nickname is "The Island of the Winds." The island is known for its' many windmills, which are a part of Mykonos landscape. While they can be found throughout the island, most of the windmills are found in Chora.
During the Roman Empire, Mykonos Island came under the control of the Romans. It then become part of the Byzantine Empire until the 12th century. With the fall of Constantinople in the Fourth Crusade in 1204, Mykonos Island was occupied by Andrea Ghisis. At the end of the 13th century, Mykonos Island was ravaged by the Catalans. In 1390, the island was given over to Venetian rule. In 1537, Mykonos Island was attacked by the admiral of Suleiman the Magnificent. An Ottoman fleet then established itself on the island and imposed a system of self-governance. Mykonos Island played a large role in the Greek Revolution against the Ottoman Empire in 1821. Manto Mavrogenous led the cause and sacrificed her family's fortune for the cause. Her statue sits in the middle of the main town.
Peter (Petros) the Pelican is probably Mykonos Island's most known celebrity. The original pelican was found after a storm in 1954 and he never left, becoming the official mascot of the island. He would wander around making an impression on both locals and tourists. After his death, his presence was missed and it became tradition to have another pelican as a resident on the island.
Administrative Region of Mykonos Island, Greece
South Aegean
Area of Mykonos Island, Greece
105.2 km2 (40.6 sq mi)
Population of Mykonos Island, Greece
10, 134
Top Attractions of Mykonos Island, Greece 
BELOW ARE INTERESTING ARTICLES ABOUT MYKONOS, GREECE: