About Peter the Pelican: Mascot of Mykonos Island
Written by Greek Boston in About Mykonos, Greece, Greek Travel Guide Comments Off on About Peter the Pelican: Mascot of Mykonos Island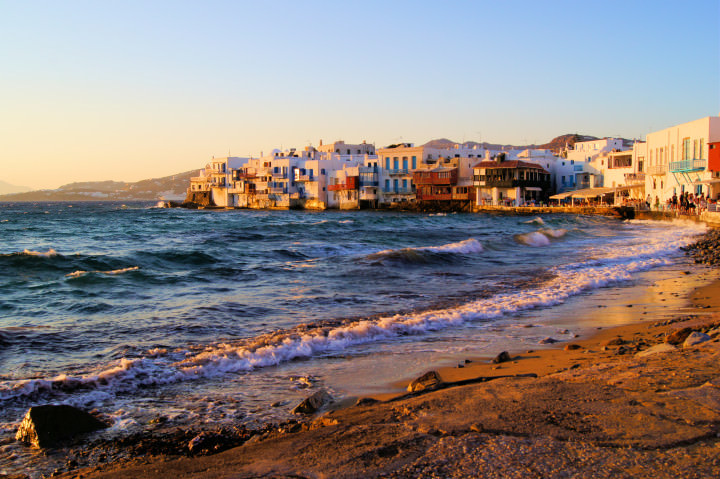 Mykonos is a Greek island in the Cyclades group in the Aegean Sea. The island, according to mythology, was formed from the petrified bodies of giants killed by Hercules. During the summer, Mykonos is known for its party-like atmosphere, especially at Paradise and Super Paradise beaches. The island is a sight to see with its white-washed buildings and spectacular sunsets. Mykonos is also famous for its mascot: Peter the Pelican. Here are a few things you should know about him:
History of Peter the Pelican
In 1958 a wounded great white pelican was found off the coast of Mykonos. He was nursed back to health and remained on the island where he was namedPetros (or Peter) and taken care of by locals. Petros in Greek means "stone" or "rock," but metaphorically means "old and grumpy." It's said that Peter the Pelican was quite a character. He made friends easily and would walk around with people as they went about their days. At the port he would be treated to fresh fish. He was the mascot of the island until he died in 1985 after he was hit by a car. He was embalmed and is now on display in Mykonos Museum.
Peter the Pelican's Fame
Peter the Pelican is by far the most-known pelican in the world. While he was alive he would pose for pictures with locals and tourists. His likeness made its way on to merchandise such as t-shirts, mugs, post cards, and other souvenirs. He was also worked into branding of local hotels and restaurants. Needless to say Peter helped to generate money for his friends on the island.
Death of Peter the Pelican
While Peter the Pelican was alive, he was sent a female pelican by Jackie Kennedy Onassis, who visited the island frequently throughout her life, to keep him company. The two never had offspring. When Peter died, the island was not left without a pelican as Irene (his mate) was still alive. Another pelican, a male, was gifted to the island by the Hamburg Zoo. It was this bird that became known as Petros II. There may be three or four different pelicans roaming the streets at any point. It's important to note that this bird is not indigenous to the island, so any pelicans on the island have to be brought (or bred) there.
More Information About Peter the Pelican
Great white pelicans breed throughout southeast Europe, Asia, and Africa. They breed in large colonies. The female will lay two eggs, which hatch between 29 and 36 days. The adult males have beaks that range from 35 – 47 centimeters long while the bird itself stands 175 centimeters tall. Great white pelicans are one of the largest flying birds in the world. They are also good swimmers. Pelicans mostly eat fish, mainly carp and cichlids.
Peter the Pelican became an unlikely and unforgettable mascot for Mykonos. His presence on the island is still very much alive. You can expect to see him here during your visit!
PLEASE NOTE: The Greek travel section at GreekBoston.com are not paid reviews. Our unbiased and informative travel articles are designed review the popular cities, islands and places in Greece. We are not always able to exactly match the photos to the destinations, but we do try to get close. However, we are not looking for photo submissions at this time. If you find something in a Greek travel article that is not accurate based on your personal experience, please send us an email to greekboston@worldwidegreeks.com and we will consider your suggestions. Thanks for reading the travel section at GreekBoston.com!
Categorized in: About Mykonos, Greece, Greek Travel Guide
This post was written by Greek Boston
Share this Greek Travel Article: