Spend Time at Parnassos National Park in Arachova, Greece
Written by Greek Boston in About Arachova, Greece, Greek Travel Guide Comments Off on Spend Time at Parnassos National Park in Arachova, Greece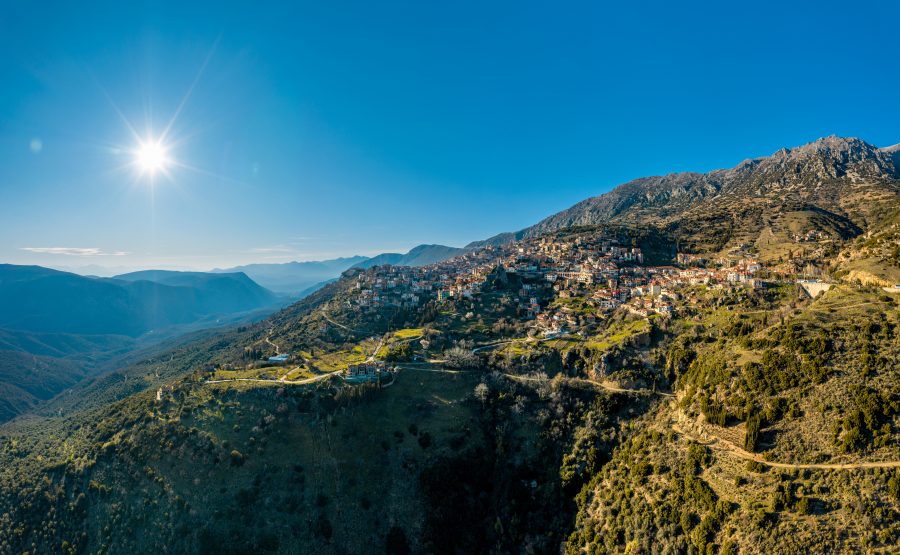 Parnassos is one of the oldest national parks in Greece. Visitors can enjoy the splendor of a pristinely gorgeous area of Greece because this park preserves the national beauty of the area around Arachova. The park is home to some interesting animals and vegetation, and it is a great places to spend some time. Here's more information:
About Parnassos National Park
Translated Parnassos means the mountain of the house of the god. You will see two twin peaks in this park, with one being dedicated to Apollo and the other to Dionysus. It is believed that the park was home to nine muses. Parnassos, who the park is named after, was the nymph of the son Kleodora by the god Poseidon and the man Kleopompus. Parnassos is said to represent poetry, and this park has been pictured in numerous pieces of artwork, including Archelaos of Priene showing Homer standing on the mountain and the 15th-century work of Mantegna showing Olympus standing on the mountain.
In 1938 the park was established to protect the park's scenic beauty and to protect its wildlife and plants. At higher levels, conifer forests are predominant while you will see many broadleaf trees at lower levels. The park has one of the most diverse plant ecosystems found on earth. Brown bears, wolves and jackals are just a few of the species of animals that live in this park.
What to Do at Parnassos National Park
Visitors to Parnassos National Park find many things to do. This park is a favorite winter retreat because of its outstanding skiing and snowboarding conditions. This is arguably the best place in Greece to go ski mountaineering. Snowmobiling is also a very popular pastime at this national park.
There are over 62 miles of hiking trails in this park. Many choose to hike from Polydrosos, Greece, through the park in a southerly direction. One of the most thrilling experiences, however, is to go on a full moon hike through the park and watch the sunrise from the mountain's summit. The E4 International trail passes through this national park.
It is easy to rent a mountain bike or join an organized mountain biking tour of this national park. Riding through the park in the spring or fall is particularly beautiful because you will see meadows of wildflower in bloom.
If you are a mountain climber, then Kouvelos needs to be on your bucket list. This trad climbing crag is one of the best in Greece, and you can also find nearby secluded ice and snow areas to go climbing.
How to Get to Parnassos National Park
It is incredibly easy to get to Parnassos National Park. The park is accessible by well-maintained and plowed roads throughout the year. You can also take the bus to the Liosion station and take a taxi from there, or you can take the train to either the Amfiklia train station or Lilea train station and take a cab from there.
Parnassos National Park is the second oldest national park in Greece, and if you are looking for an adventurous vacation, then it is one that you will want to be sure to visit. While it is best known as a winter playland, you can hike, mountain bike, climb and do many other activities throughout the year.
PLEASE NOTE: The Greek travel section at GreekBoston.com are not paid reviews. Our unbiased and informative travel articles are designed review the popular cities, islands and places in Greece. We are not always able to exactly match the photos to the destinations, but we do try to get close. However, we are not looking for photo submissions at this time. If you find something in a Greek travel article that is not accurate based on your personal experience, please send us an email to greekboston@worldwidegreeks.com and we will consider your suggestions. Thanks for reading the travel section at GreekBoston.com!
Categorized in: About Arachova, Greece, Greek Travel Guide
This post was written by Greek Boston
Share this Greek Travel Article: