Pilgrimage to Mount Athos – The Holy Mountain
Written by Greek Boston in About Kalavrita, Greece, Greek Travel Guide Comments Off on Pilgrimage to Mount Athos – The Holy Mountain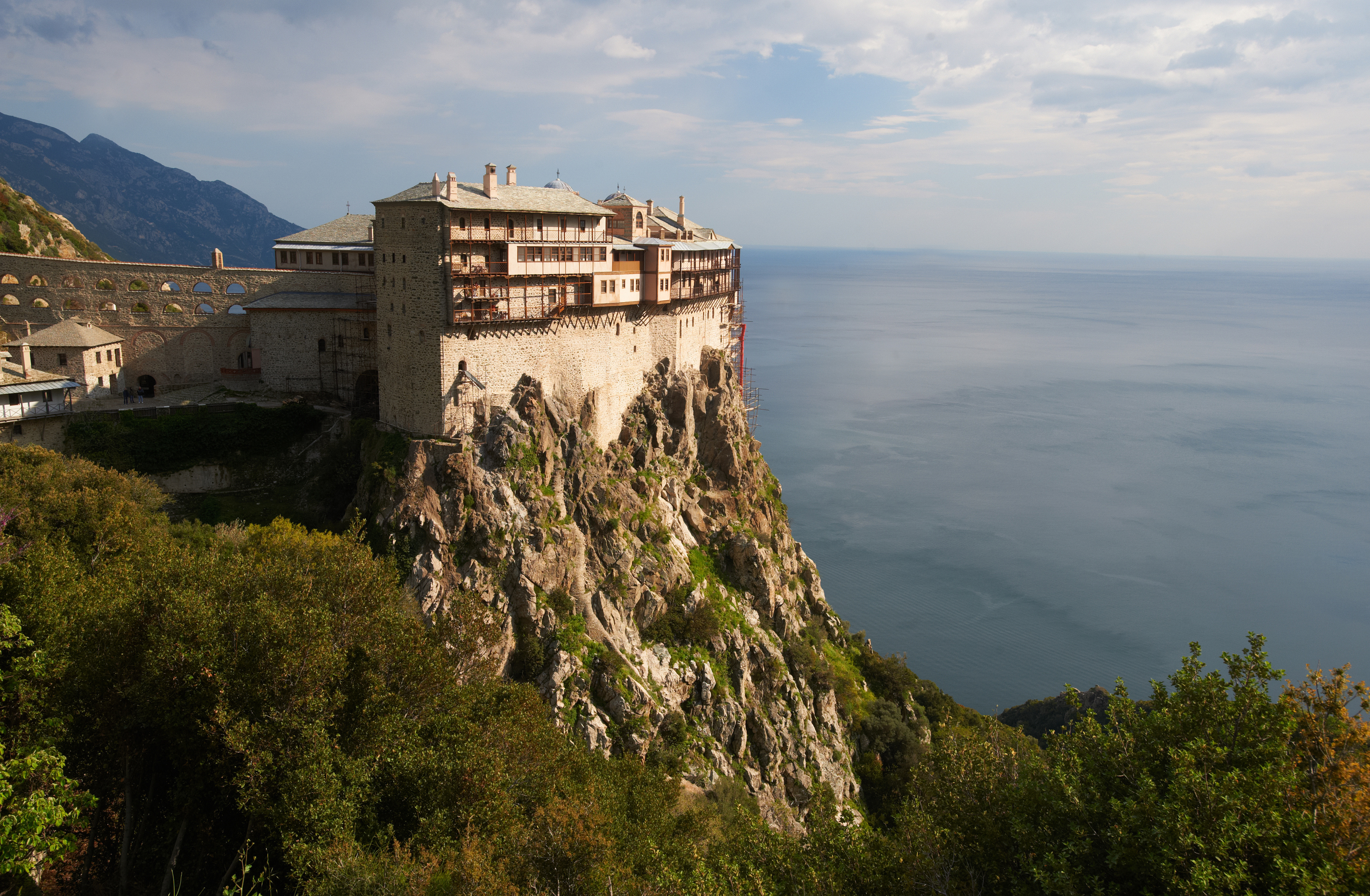 Mount Athos is home to some of the most dramatic scenery in Greece. Monasteries seem to spring up from the hills, and the surrounding area is serene and peaceful. Not only is this mountain home to twenty monasteries and over a thousand monks, but it is also a top religious pilgrimage site, especially for Orthodox Christians. It is also a UNESCO World Heritage Site. Here's more information about this historical religious site:
Information About Mount Athos
Mount Athos is both a peninsula and a mountain, located in Macedonia, which is in the northeastern part of Greece. As you can see based on the photograph here of the Simonos Petras Monastery, which is one of the twenty monasteries located on the Holy Mountain, there are some stunning views here on the mountain. There is a lot of lore surrounding the initial presence of Christianity on this mountain, and the site had also been a prominant place in Greek mythology. However, it wasn't until the Byzantine Era that the first monasteries were built here.
It is also home to twenty monasteries, which house thousands of practicing Orthodox Cbristian monks not only from Greece, but who come from all over the world. It is also considered an autonomous polity, or autonomous state, which falls under the Greek Republic. It is officially referred to as the Autonomous Monastic State of the Holy Mountain. Beecause of their autonomous status, they are able to control the flow of goods that come into the area, as well as maintain strict standards as to who can enter.
Women Aren't Allowed
Only men are permitted to visit the Holy Mountain. The reason for this is that all the monks that are living in monasteries on the mountain have taken a vow of celibacy. They have determined that if women were allowed on the mountain, this would distract them from their celibacy and therefore, from their monastic life as a whole. There have been some documented incidents of women disgusing themselves as men. This behavior has been looked at as scandalous and it definitely violates their policies.
Visiting Mount Athos
Even if you aren't a woman, permission still needs to be granted in order for you to be able to visit the Holy Mountain. However, if you're interested in a peaceful religious retreat, it's worth the effort to obtain that permission. For the most part, however, visitors to the mountain have to be monks or others who are associated with Christianity, with preference given to Orthodox Christians. Still, if you are able to meet the requirements for visiting here, it will be an unforgettable trip.
It isn't possible to simply visit Mount Athos in the same way that you would other tourist sites in Greece. However, if you are given the chance to visit here, it is worth it. You will be treated to some of the best views in Greece, as well as be given a chance to experience a true Orthodox Christian pilgrimage.
Source:
PLEASE NOTE: The Greek travel section at GreekBoston.com are not paid reviews. Our unbiased and informative travel articles are designed review the popular cities, islands and places in Greece. We are not always able to exactly match the photos to the destinations, but we do try to get close. However, we are not looking for photo submissions at this time. If you find something in a Greek travel article that is not accurate based on your personal experience, please send us an email to greekboston@worldwidegreeks.com and we will consider your suggestions. Thanks for reading the travel section at GreekBoston.com!
Categorized in: About Kalavrita, Greece, Greek Travel Guide
This post was written by Greek Boston
Share this Greek Travel Article: