Spend Time at the Ancient Site of Ftelia on Mykonos
Written by Greek Boston in About Mykonos, Greece, Greek Travel Guide Comments Off on Spend Time at the Ancient Site of Ftelia on Mykonos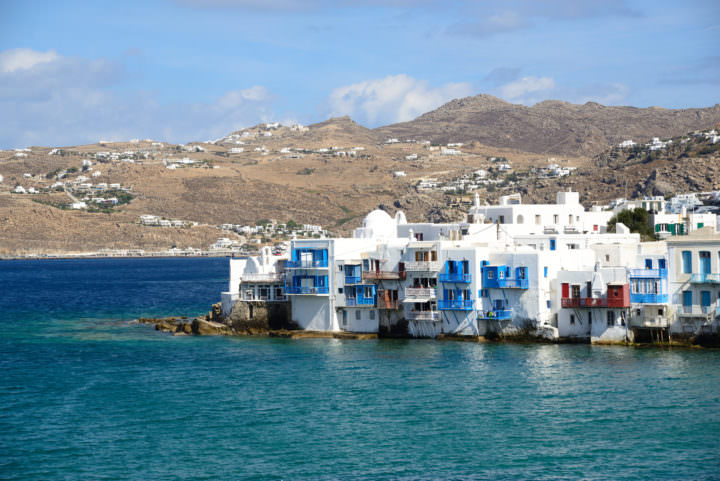 When people travel to Mykonos, it is very likely that they head there in anticipation of the nightlife, resorts, and beaches. Sure, the island is known for those things. However, there is another side to Mykonos that visitors should experience, as well. It is an island that also has a rich history, which means that there you could also spend your time visiting museums and historical sites. One of the most intriguing places to visit is in Ftelia, which is an ancient Neolithic settlement that guests are welcome to explore. Here's more information:
Getting to Ancient Ftelia
The ancient archaeological site of Ftelia is actually located near Ftelia Beach. To give you a frame of reference, it is about a 7 kilometer drive from Mykonos Town, which should take you about 15-20 minutes by car depending on the traffic. Since it is close, you an easily take a taxi or maybe even public transportation in order to get there. Before heading to Ftelia you'll need to find a way to get yourself to the island. For that, you can either take a flight into the regional airport or a ferry. The easiest option is to take an airplane from Athens since there are flights that depart from there to Mykonos several times a day.
About the Archaeological Site at Ftelia
One of the main reasons why you'll want to head to this part of the island is to visit the ancient archaeological site located art Ftelia. It is one of the oldest that has been discovered on the island since it dates back to the Neolithic Era of Ancient Greece, which took place in around the 5th millennium B.C. One of the most intriguing things about the site is an Ancient Tomb that archaeologists and historians believe may have the Ajax, who is an ancient hero who was celebrated in Homer's Iliad. Historians are finding that there may be some truth to the stories.
Visiting the Ancient Settlement
If you have some extra time while on Mykonos, you should really consider visiting this ancient settlement. It is a good example of the way people lived on the island. The excavations took place until around the year 2000 and there have been about four levels that have been revealed that highlight a different aspect of life on Mykonos. It is possible that there were even more levels but most of them are under serious decay. Nevertheless, these levels have revealed some important findings. When you visit the site you'll get to see these levels. However, you'll want to hire a guide if possible because you'll get even more out of it while someone else is explaining it.
Before you leave the area, you'll want to take some time to lounge at the beach on Ftelia. It is incredibly scenic and picturesque. It's also not as busy as some of the other beaches since it is a bit off the beaten track. The beach itself, however, is worth visiting.
While on Mykonos, you'll want to find the time to visit the Ancient Archeological site of Ftelia. 
PLEASE NOTE: The Greek travel section at GreekBoston.com are not paid reviews. Our unbiased and informative travel articles are designed review the popular cities, islands and places in Greece. We are not always able to exactly match the photos to the destinations, but we do try to get close. However, we are not looking for photo submissions at this time. If you find something in a Greek travel article that is not accurate based on your personal experience, please send us an email to greekboston@worldwidegreeks.com and we will consider your suggestions. Thanks for reading the travel section at GreekBoston.com!
Categorized in: About Mykonos, Greece, Greek Travel Guide
This post was written by Greek Boston
Share this Greek Travel Article: