Buy Fresh Loukomades While on Beaches in Greece
Written by Greek Boston in About Mykonos, Greece, Greek Travel Guide Comments Off on Buy Fresh Loukomades While on Beaches in Greece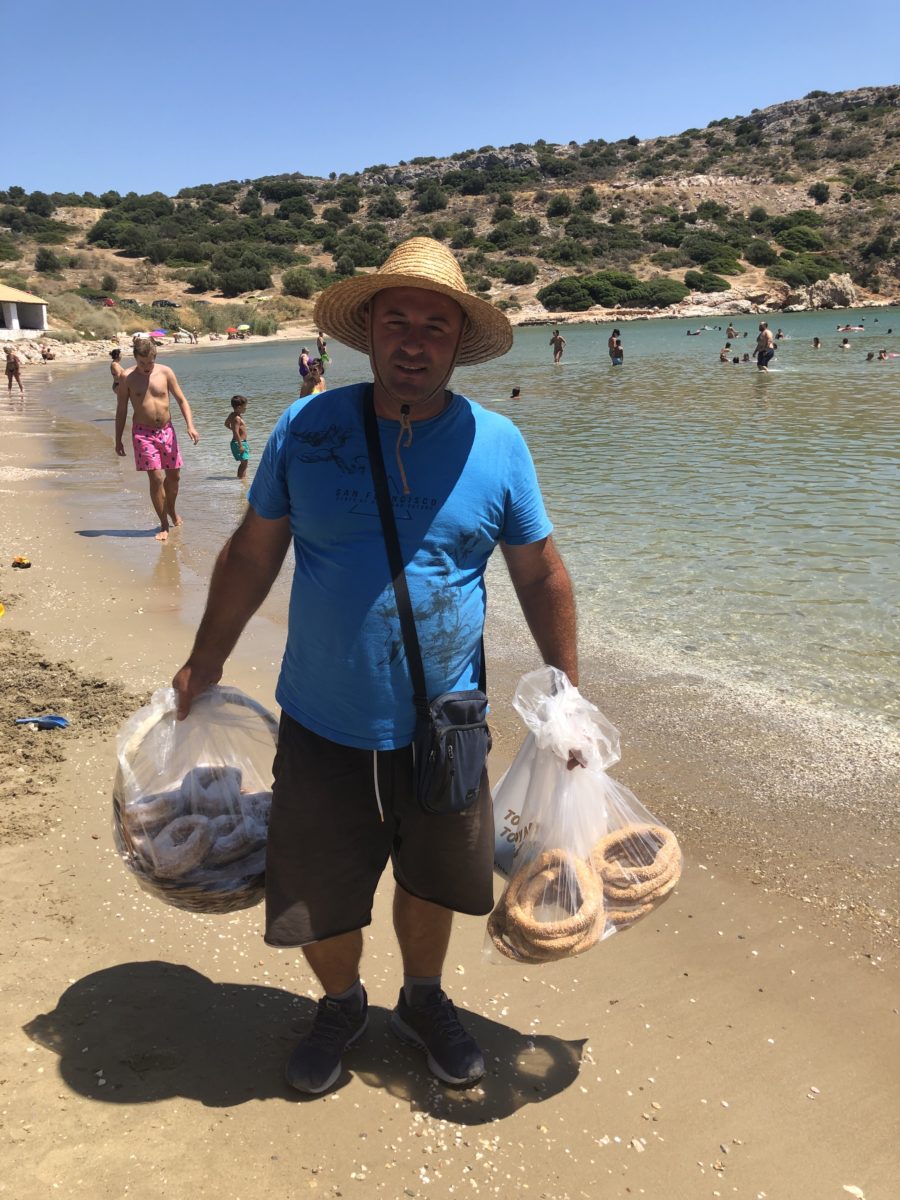 Greece is known for its gorgeous beaches and no matter where you are in the country, the chances are pretty good that you'll have access to a good one. This is especially true for places like Mykonos and Crete, where the beach scenes are legendary. Whether you love splashing around in the water, sip cocktails from your beach chair, or simply soak up the sun, you will find that there is plenty for you to do.
There are also some amazing culinary treasures that you can enjoy while lounging at the beach. Loukoumades, also known as Greek doughnuts or Greek fried dough, are one of the more interesting things that you can enjoy. Here's more information about this:
What Are Loukoumades?
Loukoumades are a form of Greek doughnut or fried dough. The dough seems to be softer than regular fried dough or even the doughnuts that we are used to in the United States. They can also come in a variety of different shapes. Pictured here, the doughnuts are made in a loop shape and in some parts of Greece, they could also be referred to as kouloura. It is more typical to find the version of loukoumades that is made with a softer dough in smaller shapes. The loukoumades are then typically finished off with a honey-based sauce, some chopped walnuts, and cinnamon. However, they even taste great on their own!
Buying Loukoumades From Locals
While relaxing at the beach, you may see a local Greek with a supply of fresh loukoumades bundled in bags or a basket. These enterprising Greeks love sharing their culinary treats with tourists. For tourists, it gives them the opportunity to try some authentic Greek food and to support the local economy. When you see someone walking around with food like this, you will absolutely want to try them. Once you do, you won't regret it!
Making Loukoumades at Home
Loukoumades can be made in a variety of different ways. The basic premise is that you drop spoonfuls of dough into hot oil. The type of oil you use doesn't matter, but it does seem to taste better when you use Greek olive oil! There are machines that you can buy for making these, and some of the larger restaurants and bakeries use these machines to make them. At home, you don't need to have a special machine to enjoy them. Here's a recipe that is easy to follow and delivers loukoumades that are truly authentic.
While visiting various places in Greece, such as the beaches, you might see someone selling fresh fried dough, or loukoumades. If you see this, you'll definitely want to purchase it to enjoy because it is an authentic and delicious Greek food experience that you can't get anywhere else!
PLEASE NOTE: The Greek travel section at GreekBoston.com are not paid reviews. Our unbiased and informative travel articles are designed review the popular cities, islands and places in Greece. We are not always able to exactly match the photos to the destinations, but we do try to get close. However, we are not looking for photo submissions at this time. If you find something in a Greek travel article that is not accurate based on your personal experience, please send us an email to greekboston@worldwidegreeks.com and we will consider your suggestions. Thanks for reading the travel section at GreekBoston.com!
Categorized in: About Mykonos, Greece, Greek Travel Guide
This post was written by Greek Boston
Share this Greek Travel Article: