Tour the Seikilo Museum in Thessaloniki
Written by Greek Boston in About Thessaloniki, Greece, Greek Travel Guide Comments Off on Tour the Seikilo Museum in Thessaloniki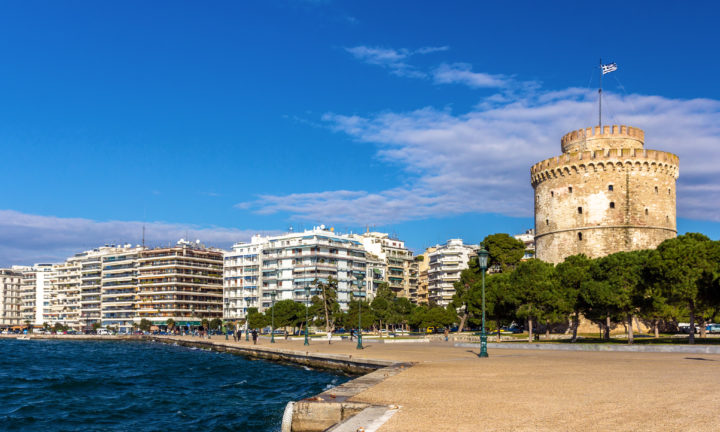 Thessaloniki, Greece has a long and interesting music history. Thessaloniki has been inhabited by a mosaic of people since the start. They are brought their musical influences to the area and it became part of the heritage. The music history of Thessaloniki began during the 3rd century BC. At the Seikilo Museum in Thessaloniki you will get to learn about and experience some of this history.
About the Seikilo Museum
The Seikilo Museum is located at Vasileos Irakleiou 4 in Thessaloniki, Greece. The best ways to get around in Thessaloniki are by bus and taxi. From the city center, you can get to any site in the city in 30 minutes or less. This is a great place in Thessaloniki to learn about ancient Greek mythology, the different types of lyres (a string instrument known for its use in Greek classical antiquity and later periods), traditional modern instruments, and more. This is a great outing for the whole family!
Tour the Seikilo Museum in Thessaloniki
The museum has several exhibits to savor and enjoy. Here's a look at some of the things you will see when you tour the museum:
Exhibition of Ancient Music Instruements
At the Exhibition of Ancient Music Instruments at the Seikilo Museum you will be taken on a journey through ancient Greek mythology and music. You will have the opportunity to learn about, look at, and play with ancient Greek instruments that include the pandura, an ancient Middle-Eastern instrument that is commonly associated with the Ancient Greek Civilization; the lyre of Hermes, the Cithara of the Golden Age; the barbiton of Sappho; and the Tympanon of Dionysus to name a few. During this experience, a professional lyricist will perform live. They will also provide you with interesting facts about Plato, Apollo, Zeus, and Hermes. This experience is ideal for anyone who is interested in mythology, music, and ancient Greek civilization.
Learn to Play an Ancient Instrument 
At the Seikilo Museum, you can also learn to play an ancient musical instrument. The Lyre of Apollo experience will give you the chance to hear and play the ancient Greek lyre. The sound and aesthetics of the lyre will be explained in detail before you get hands on experience and learn to play it yourself. Each participant will be provided with an ancient Greek lyre. Anyone can enjoy this experience, no musical education or background is needed. It is said that the lyre is easier to learn than a guitar or other modern instruments. The Lyre of Apollo experience lasts one hour.
Discover Some Amazing Greek Wines
There is a wine-tasting experience offered by the Seikilo Museum in Thessaloniki. During this 120 minute experience, you will taste award-winning Greek wines. During this experience, you will be taught about wine-tasting procedures that will help you to improve your skills as a wine-taster. This fun experience involves playing creative wine games. You will taste more than five top-quality wines and examine their flavors, aromas, and colors. Wine lovers will enjoy this experience.
Learn About the Tympanon Drum 
At the Rhythm of Ancient Rituals experience will allow you the chance to play an ancient Greek frame-drum called a tympanon. As a group, you will play the instrument together. No musical experience is needed for this experience. During the hour-long session, you will learn about the tympanon and how to create a rhythm.
While visiting Thessaloniki, Greece, you'll want to spend some time at the Seikilo Museum. It contains a unique cultural experience the whole family will enjoy!
PLEASE NOTE: The Greek travel section at GreekBoston.com are not paid reviews. Our unbiased and informative travel articles are designed review the popular cities, islands and places in Greece. We are not always able to exactly match the photos to the destinations, but we do try to get close. However, we are not looking for photo submissions at this time. If you find something in a Greek travel article that is not accurate based on your personal experience, please send us an email to greekboston@worldwidegreeks.com and we will consider your suggestions. Thanks for reading the travel section at GreekBoston.com!
Categorized in: About Thessaloniki, Greece, Greek Travel Guide
This post was written by Greek Boston
Share this Greek Travel Article: