About Thessaloniki, Greece
Thessaloniki is the second-largest city in Greece. The city is located on the Thermaic Gulf at the northwestern corner of the Aegean Sea. The city is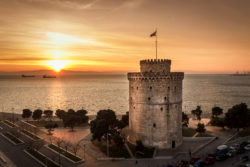 prone to geological changes thanks to its close proximity to mountain ranges, hills, and fault lines. Since medieval times, Thessaloniki has been hit by strong earthquakes. In June of 1978, Thessaloniki suffered a series of earthquakes that ranged from 5.5 and 6.5 on the Richter scale.
Thessaloniki was founded in 315 BC by Cassander of Macedon. The city was named after princess Thessalonike of Macedon, who was the half-sister of Alexander the Great. During the Roman period it was an important metropolis. In 1430, Thessaloniki was conquered by the Ottomans. In 1912, the city of Thessaloniki was passed from the Ottoman Empire to Greece.
The Great Thessaloniki Fire of 1917 destroyed much of the old city. The fire was started accidentally in an unattended kitchen on August 18. 72,000 people were left homeless after the fire, many of them Jewish. Because so many businesses were destroyed, jobs were also lost. Rebuilding after the fire did not happen quickly. The government took this time to plan a complete redesign of the city of Thessaloniki. They wanted to create a European-style urban plan. A group of architects, including Thomas Mawson, would go about creating the plan for the new city.
During World War II, Thessaloniki was faced more damages with over 800 buildings being destroyed and 231 people killed in November 1940 alone when Fascist Italy attempted to take the city. They would ultimately fail, but the city would fall to Nazi Germany in 1941. Jewish residents would soon be taken to concentration camps and the gas chambers. After the war, Thessaloniki would be rebuilt again. Several early Christian and Byzantine monuments have been added to the UNESCO World Heritage list.
Area of Thessaloniki, Greece 
19.307 km2 (7.454 sq mi)
Population of Thessaloniki, Greece
315, 196 
Top Attractions in Thessaloniki, Greece
BELOW ARE INTERESTING ARTICLES ABOUT THESSALONIKI, GREECE: