Enjoy the Dinosaur Park of Thessaloniki
Written by Greek Boston in About Thessaloniki, Greece, Greek Travel Guide Comments Off on Enjoy the Dinosaur Park of Thessaloniki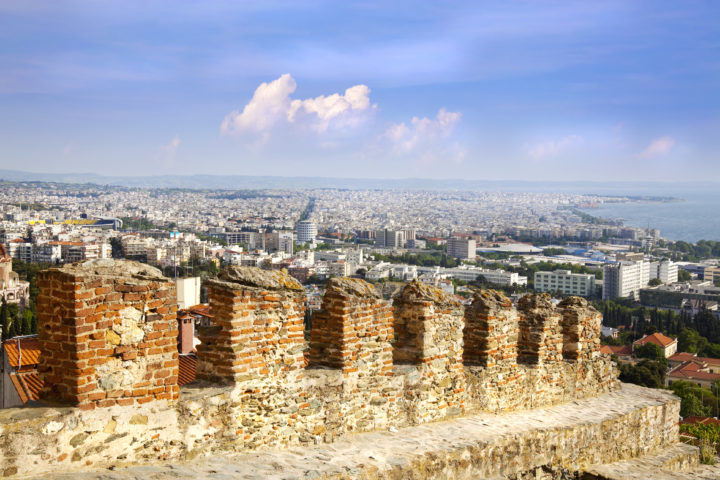 Thessaloniki is home to many exciting attractions. As the second largest city in Greece, there is certainly no shortage of things to do. If you're looking for a place that both children and adults will enjoy, the Dinosaur Park of Thessaloniki should be at the top of your list. Here's what you should know about the Dinosaur Park.
About the Dinosaur Park of Thessaloniki
The Dinosaur Park of Thessaloniki is a thematic park that exhibits dinosaurs as well as other prehistoric animals. The Dinosaur Park is an ideal place for kids and adults. It opened in 2008 and includes life-size models of all dinosaurs, a mammoth museum, a mammals museums that has models of extinct species, a reptile museum, an interactive toy museum, a sea life museum, and a botanical garden complete with plants and herbs.
The Dinosaur Park is the largest exhibition in Europe of natural size dinosaurs. The exhibits also include natural landscapes that include a lake and waterfalls. There are also outdoor and indoor play areas at the Dinosaur Park, a mini-golf course, a representation of an ancient Greek farm, and a mini fun fair.
Enjoy the Dinosaur Park
Tours at the Dinosaur Park of Thessaloniki are conducted each hour. This is a great way to see all the exhibits and have them explained by a knowledgeable guide. In addition to the Dinosaur Park, you can purchase admission to the following: the Human Body Museum, the Museum of Traditional Greek Games, and the Labyrinth of Mythology. You can also purchase one ticket that will get you into all the thematic exhibitions.
The Cave of Evolution is an artificial cave that allows children to explore the interior to see the stalactites and stalagmites and learn about human evolution.Children wear helmets during this tour and learn how excavations are done. The Ancient Farm is located on five acres and highlights the ways Greek-Mediterranean meals are prepared with elements of the ancient Greek nutrition.
In addition to all of the wonderful exhibits and play areas, the Dinosaur Park of Thessaloniki has a multiplex that includes a playground, cafe, bar, and pool. There is also an athletic center, Greek tavern, and hall for social events.
Getting to the Dinosaur Park in Thessaloniki
Traveling to Thessaloniki, Greece can be done by plane, ferry, bus, or car. The airport of Thessaloniki is 16 km from the city center. A flight from Athens to Thessaloniki takes 1 hour. Flights to Thessaloniki come from various airports throughout Greece as well as internationally. Thessaloniki is located 500 km north of Athens.
If you drive, you can take the modern National Highway, which takes about 5 hours. Once in Thessaloniki, you can get around quite easily as no spot is more than 30 minutes from the city center by public transportation. In addition to public transportation, taxi is the other popular way to get around. The Dinosaur Park is located at 7th km of Thessaloniki-Oreokastro Road.
Visit the Dinosaur Park when visiting Thessaloniki, Greece. Visiting the park will keep your family busy and entertained all day long.
PLEASE NOTE: The Greek travel section at GreekBoston.com are not paid reviews. Our unbiased and informative travel articles are designed review the popular cities, islands and places in Greece. We are not always able to exactly match the photos to the destinations, but we do try to get close. However, we are not looking for photo submissions at this time. If you find something in a Greek travel article that is not accurate based on your personal experience, please send us an email to greekboston@worldwidegreeks.com and we will consider your suggestions. Thanks for reading the travel section at GreekBoston.com!
Categorized in: About Thessaloniki, Greece, Greek Travel Guide
This post was written by Greek Boston
Share this Greek Travel Article: