Visit the Church of Panagia Halkeon in Thessaloniki
Written by GreekBoston.com in About Thessaloniki, Greece, Greek Travel Guide Comments Off on Visit the Church of Panagia Halkeon in Thessaloniki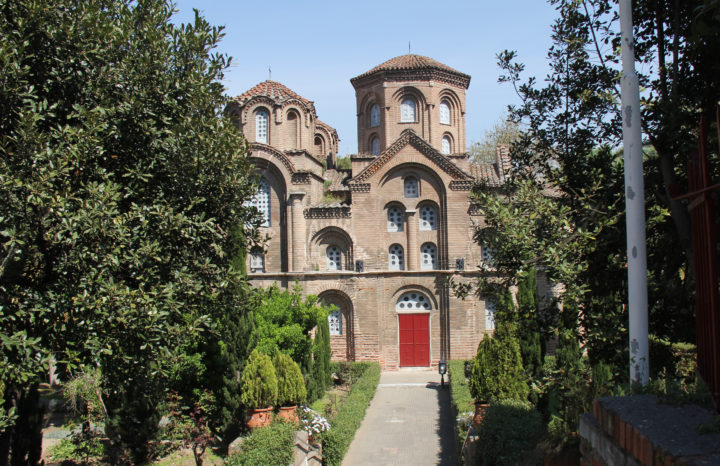 Thessaloniki, Greece is known for its impressive history that features many civilizations and cultures. One way to experience this side of Thessaloniki is through its churches. The Church of Panagia Halkeon in Thessaloniki, Greece is a must-see when you're visiting.
About the Church of Panagia Halkeon
The Church of Panagia Halkeon (Our Lady of the Coppersmiths) in Thessaloniki is a Byzantine church that was founded in 1028, according to an inscription that can be found over the western entrance. The name of the church may be related to the fact that coppersmiths' workshops existed around the area.
The architecture of the Church of Panagia Halkeon closely follows the architectural tradition of Constantinople. It is a four-columned cross-in-square church that has a dome. The outside of the church features carved arches and apses, conches, and semi-circular columns. These are common elements of Constantinople. The exterior of the church is made of brick only, which was likely expensive and why the church is known as the Red Church. Inside the main church are scenes of the Nativity, Adoration of the Magi, Pentecost, and Hypapante. These wall paintings are considered very important.
The Church of Panagia Halkeon was converted to a mosque during the Ottoman occupation in 1430. When the city of Thessaloniki was liberated in 1912, it would become an Orthodox church once again. A 1932 earthquake would cause damage to the church, but in would be restored during the years that followed.
Visit the Church of Panagia Halkeon
The Church of Panagia Halkeon is located on Halkeon Street in Thessaloniki, Greece. Entrance to the church is free, but there is a dress code that asks you to not wear shorts or sleeveless shirts. This old church is fascinating to explore. The icons, paintings, and architecture of the church of Panagia Halkeon are definitely worth a look. The church is a wonderful escape from the hustle and bustle of the city and will transport you back in time. There is a lovely garden that surrounds the Byzantine church.
The Church of Panagia Halkeon is located at Ancient Agora Square, just a short distance from the archaeological site of the Roman Agora and Aristotle Square. While you are in the are visiting the church, you may want to explore these sites as well.
Thessaloniki is located about 500 km from Athens. If you drive from Athens using the National Highway Athens-Thessaloniki and the Egnatia Odos, the trip will be about 5 hours. There are also frequent daily buses from Athens to Thessaloniki. The train to Thessaloniki might be your quickest option unless you are flying into the Thessaloniki Airport.
Once in Thessaloniki you can get around via the dense network of bus lines that connect most parts of the suburbs and city. Taxis are also available throughout the city, 24 hours a day.
The Church of Panagia Halkeon is a site you should see when visiting Thessaloniki, Greece.
Categorized in: About Thessaloniki, Greece, Greek Travel Guide
This post was written by GreekBoston.com
Like this article? Please share below: