Visit Agios Demetrios Church in Thessaloniki
Written by Greek Boston in About Thessaloniki, Greece, Greek Travel Guide Comments Off on Visit Agios Demetrios Church in Thessaloniki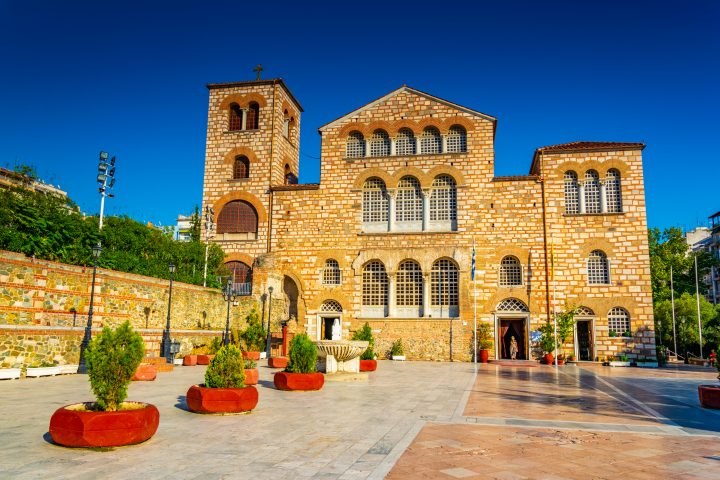 Thessaloniki is a Greek city that full of history and beauty. It is also the second largest city in Greece, which means that there are plenty of sites to see here, as well as a rich history. Remains of the Roman, Byzantine, and Ottoman empires can still be seen today. An important historic site in Thessaloniki is Hagios Demetrios Church.
About Hagios Demetrios Church
Located in Thessaloniki, Hagios Demetrios Church was built as a small church on the site of a Roman bath. The church was originally built during the early 4th century AD. In 413 AD, a larger basilica with three aisles was constructed. Unfortunately, it burnt down in 634 AD and a larger five-aisled basilica was built. This church is still standing today and is actually the largest church of Greece.
During the Turkish occupation in 1493, Hagios Demetrios became a mosque. Then in 1912, it became a Christian church once again. A fire destroyed the church in 1917, but it was rebuilt using the original plans, so what you see is what existed for centuries. The reconstruction took many years, but in 1949 Hagios Demetrios Church was once again reconsecrated.
Patron Saint Demetrios – Protector of Thessaloniki
The patron saint protector of Thessaloniki is Saint Demetrios. As a child, Demetrios got baptized secretly, as it was forbidden at the time to be baptized. Saint Demetrios was the son of a wealthy military commander. Demetrios also joined the army and would become an officer. After the death of the Roman Emperor Maximian's father, all Christians of Thessaloniki were ordered to be killed.
Saint Demetrios refused to change his faith and was thrown into prison and tortured. Before he died, he donated everything he had to the poor. His sacrifice for his faith made him a saint. In 1988, Hagios Demetrios Church was added to the list of World Heritage Sites by UNESCO.
Visit Hagios Demetrios Church in Thessaloniki
Hagios Demetrios Church is an important and fascinating landmark you will want to explore when visiting Thessaloniki, Greece. Inside the church you will see beautiful Byzantine mosaics that have been restored. These mosaics depict children of the city and of course Saint Demetrios.
If you enjoy tours, you may like a tour of Thessaloniki that includes Hagios Demetrios Church as a point of interest. A tour is beneficial if you want to get information from a knowledgeable guide who knows history and details surrounding the church.
How to Get to Hagios Demetrios Church
To get to Hagios Demetrios Church, you will first travel to Thessaloniki, which can be done in a number of ways including by plane, train, cruise ship, car, or bus. Depending on where you are coming from, access is fairly convenient. Once in Thessaloniki, you can get around the city by bus, taxi, or bike. The best way to get around though is by foot! Sites around the city are not far from each other and you will find places to eat and relax as you explore on foot as well.
Hagios Demetrios Church is not far from the Roman Agora, the market, and the museum if you happen to be visiting any of these sites, you'll be within walking distance.
PLEASE NOTE: The Greek travel section at GreekBoston.com are not paid reviews. Our unbiased and informative travel articles are designed review the popular cities, islands and places in Greece. We are not always able to exactly match the photos to the destinations, but we do try to get close. However, we are not looking for photo submissions at this time. If you find something in a Greek travel article that is not accurate based on your personal experience, please send us an email to greekboston@worldwidegreeks.com and we will consider your suggestions. Thanks for reading the travel section at GreekBoston.com!
Categorized in: About Thessaloniki, Greece, Greek Travel Guide
This post was written by Greek Boston
Share this Greek Travel Article: