Spend Time at the Roman Market in Thessaloniki
Written by GreekBoston.com in About Thessaloniki, Greece, Greek Travel Guide Comments Off on Spend Time at the Roman Market in Thessaloniki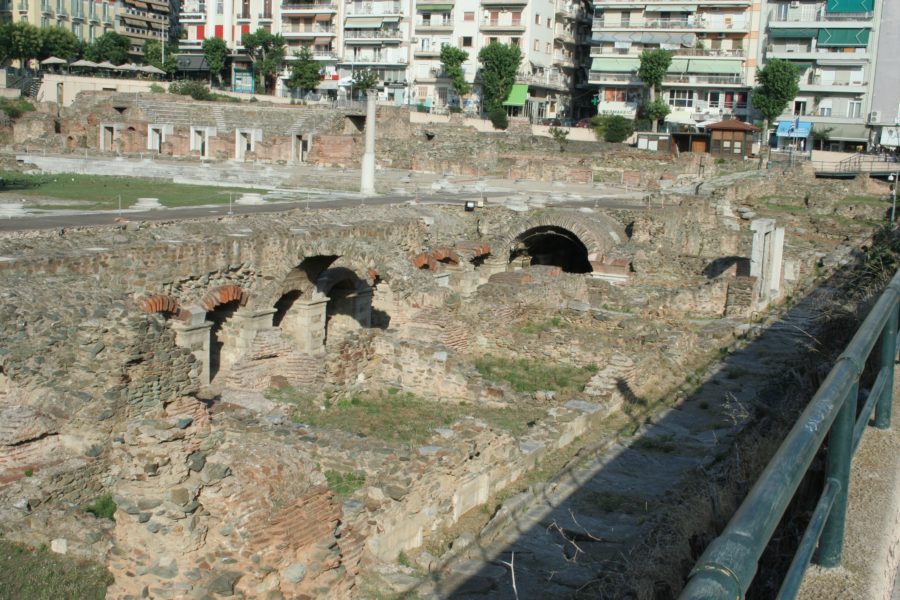 Thessaloniki is one of those cities that is absolutely worth a visit. There's so much to do it can be difficult to choose. If you love history, you should visit the Roman Market, or Roman Agora. During Roman times, the agora was the beating heart of the city, a place where people came to shop, govern, and exchange the local news. 
In 1966, the municipality began constructing the Court House in the abandoned area, when they accidentally unearthed the forum's stoa, a covered walkway. The city stopped construction and began restoring the site in 1989. Now visitors can wander the ruins, time traveling to the first century. Here's more information:
History of the Roman Market
Historians think that the forum was built in the first century and refurbished in the second century. It had social, administrative, and religious purposes, so every main road in Thessaloniki led to it. During the second, third, and fourth centuries the forum was the most important part of the city. Residents continued to use it through the sixth century, although most of the power shifted eastward to the Palatial complex.
Thessaloniki gained power over the Roman period and became the second largest and wealthiest city during the Byzantine period. Afterward, much of the forum's architecture was ruined by earthquakes and invasions.
Architecture of the Roman Market
A Roman agora always featured the most impressive buildings in the city to display the political and religious power of Roman civilization. The buildings proclaimed the prosperity of the city to all travelers. Archeological excavations have revealed that Thessaloniki's forum once had a mint, a conservatory, several public buildings, shops, and a stoa.
One of the highlights is the restored Odeion, an amphitheatre that hosted gladiator fights. The forum also had two Roman baths, and one of them has been uncovered for visitors to see. Several of the magnificent Corinthian pillars are largely intact, along with archways and terraces.
Details of Your Visit
Although the ruins are definitely worth examining themselves, you shouldn't leave the forum until you've explored the underground museum. Just follow the stoa until it disappears into the earth. The museum is full of maps and illustrations that help visitors understand the history of Thessaloniki.
The Roman Forum is now an ancient gem surrounded by modern buildings. It is centrally located on the upper side of Aristotelous Square. A ten-minute walk heading north-east along Aristotelous street takes you directly to the Forum. It is open from 9am to 4pm most days.
Other historical and cultural sites are only minutes away, including the Statue of Eleftherios and the Church of Panagia Chalkeon, a Byzantine edifice. This area also offers a variety of cafés and restaurants in the near vicinity.
If you are looking to experience the ancient history of Thessaloniki, consider making time to visit the Roman Market!
Categorized in: About Thessaloniki, Greece, Greek Travel Guide
This post was written by GreekBoston.com
Like this article? Please share below: