International Film Festival in Thessaloniki
Written by Greek Boston in About Thessaloniki, Greece, Greek Travel Guide Comments Off on International Film Festival in Thessaloniki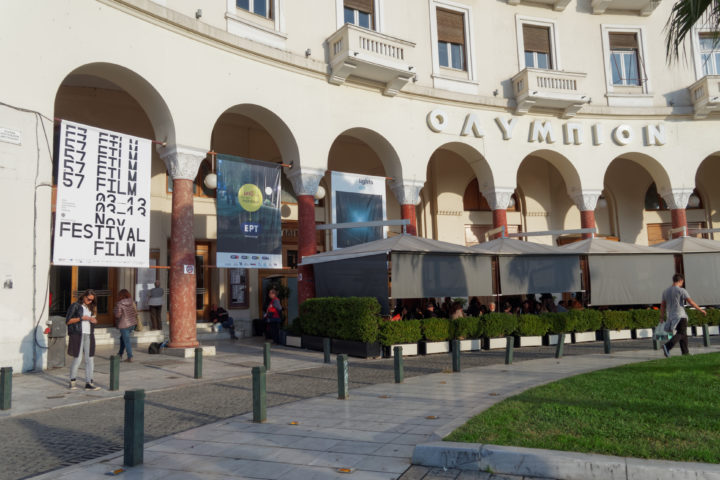 Each year, there are plenty of memorable film festivals that take place throughout the world. Some festivals, like the International Film Festival in Thessaloniki, are a bit less known. However, this shouldn't stop you. While visiting Greece, you should consider attending this film festival. Here's more information:
About the Thessaloniki Film Festival
The Thessaloniki International Film festival occurs each year in November and brings  some of the most important international film figures together to showcase a wide selection of contemporary films sure to engage and entertain. Since the festival began in 1960, it has come to not only represent variety but also quality, with funding from the Greek Ministry of Culture to solidify its cultural relevance to the country.
Because of this, attending the festival allows you to not only observe some of the best art that Greek culture has to offer, but also familiarize yourself with the international film circuit. Film critics and casual fans alike will find something to enjoy in this festival that is truly a celebration of the art of cinema.
Watch World Renowned Film
Over the course of the festival's 10 day program, over 150 films are shown to crowds totaling up to 70,000 people. The focus of the festival is typically directed towards those who are not as well-known as their contemporaries, allowing the Thessaloniki Film Festival to be one of the world's most impressive showcases for young filmmakers who are trying to have their art surveyed in hopes of breaking into the industry. These films are placed into various categories, some being more competitive than others, to help classify and give the films exposure to attendees.
Get to Know the Judges' Panel
One of the most exciting parts about the Thessaloniki Film Festival is the evaluation that happens at the end—a jury takes a look at the films that have been displayed over the previous 10 days and subsequently awards an impressive roster of honors to deserving films. The jury is typically comprised of seven different internationally acclaimed people in film, ensuring that the awards are given to films with the most distinguished sense of artistry.
Experience Culture During the Festival
The sheer variety of films shown at the Thessaloniki Film Festival is quite robust, having something for everyone throughout the 10 day cycle. For those who are also interested in exploring other events, the film festival is also surrounded by many other types of events such as visual art exhibitions and concerts, making the film festival only a centerpiece for what is truly a festival of cultural exuberance.
One of the most exciting things about the Thessaloniki Film Festival is that—no matter how much time you spend watching films—you won't be able to see them all. This is what makes the festival one to return to, as each year brings its own gripping selection of talent, film, and distinguished excellence.
So, what are you waiting for? Start planning your trip to the Thessaloniki Film Festival today and immerse yourself in quality filmmaking today!
PLEASE NOTE: The Greek travel section at GreekBoston.com are not paid reviews. Our unbiased and informative travel articles are designed review the popular cities, islands and places in Greece. We are not always able to exactly match the photos to the destinations, but we do try to get close. However, we are not looking for photo submissions at this time. If you find something in a Greek travel article that is not accurate based on your personal experience, please send us an email to greekboston@worldwidegreeks.com and we will consider your suggestions. Thanks for reading the travel section at GreekBoston.com!
Categorized in: About Thessaloniki, Greece, Greek Travel Guide
This post was written by Greek Boston
Share this Greek Travel Article: