Top Neighborhoods to Visit in Thessaloniki
Written by Greek Boston in About Thessaloniki, Greece, Greek Travel Guide Comments Off on Top Neighborhoods to Visit in Thessaloniki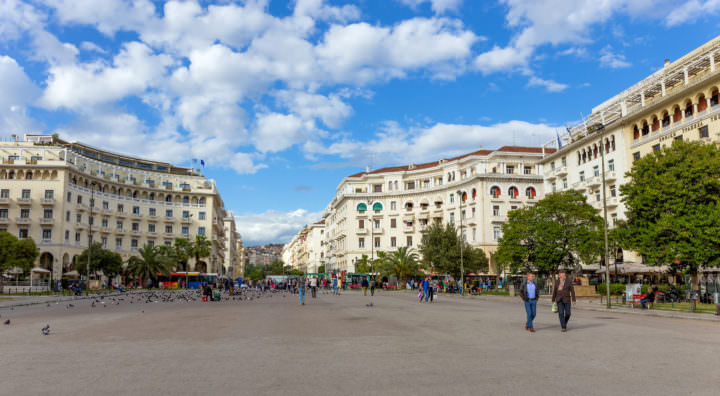 Thessaloniki is on of those cities that has its own special charm. Like many parts of Greece, this city is at once modern and ancient, and this blend adds to its appeal. One of the things that makes this city so great are its many neighborhoods. There is such a diversity, there really is something for everyone. Here's more information:
There are many areas like this in the city, but Aristotle Square is by far the most well known. Visit here to gaze at the beautiful buildings, visit the park, or sit in one of the cafes or restaurants. You can easily spend the whole day here exploring.
When people think about what they love about Thessaloniki, the beach promenade comes to mind. This is considered one of the most popular parts of the city. When visiting, you can walk along the water and the beach, enjoy some beachside shopping, and visit a restaurant or cafe.
This the area of the city that definitely attracts the history lovers. Old Town is where most of the old, historical buildings are located – but it is so much more than that. Although it used to be known as the Ottoman Quarter, the area is filled with historical buildings, cafes, and shops to explore.
Ladadiki
If you are looking for a great place to enjoy the nightlife, you won't want to miss the chance to visit Ladadiki. There was a time when this area had a bad reputation, but that's all in the past. Now, you can visit bars, nightclubs, and other restaurants. There's something here for everyone!
Egnatia Quarter is the place to visit if you want to gaze at some historical churches. It also has some ties to history because the Roman Agora and Arch of Galerius is here. Be sure to visit the church of Panagouda, which is also in this area.
Navarino Square
Navarino Square is considered to be at the center of Thessaloniki. Because of this, it often serves as a meeting spot for locals. This is also a great spot to find a nice cafe or to even eat some crepes. Although this isn't traditionally Greek, some of the shop owners have given some of their crepes a Greek flavor. You'll also want to visit the Byzantine church, which is modeled after the historical Agia Sofia which is located in present-day Istanbul.
Rotonda
If you want to visit a place that is packed with locals, you'll want to head to the Rotonda neighborhood. Here, locals convene to eat in a restaurant or to lounge in a cafe. This area is also near the Egnatia Quarter, which has the Arch of Galerius and Roman Agora, two important historical sites in the city.
Xan Square has a bit of a reputation of attracting the young people of the city. In fact, the square is named after the Youth of Thessaloniki, which in Greek is abbreviated to Xan. The Christian Brotherhood is also based here. The Archaeological Museum and Royal Theater are also here.
You won't want to miss the chance to visit these places while on Santorini!
PLEASE NOTE: The Greek travel section at GreekBoston.com are not paid reviews. Our unbiased and informative travel articles are designed review the popular cities, islands and places in Greece. We are not always able to exactly match the photos to the destinations, but we do try to get close. However, we are not looking for photo submissions at this time. If you find something in a Greek travel article that is not accurate based on your personal experience, please send us an email to greekboston@worldwidegreeks.com and we will consider your suggestions. Thanks for reading the travel section at GreekBoston.com!
Categorized in: About Thessaloniki, Greece, Greek Travel Guide
This post was written by Greek Boston
Share this Greek Travel Article: