Top Ways to Enjoy Art in Thessaloniki
Written by Greek Boston in About Thessaloniki, Greece, Greek Travel Guide Comments Off on Top Ways to Enjoy Art in Thessaloniki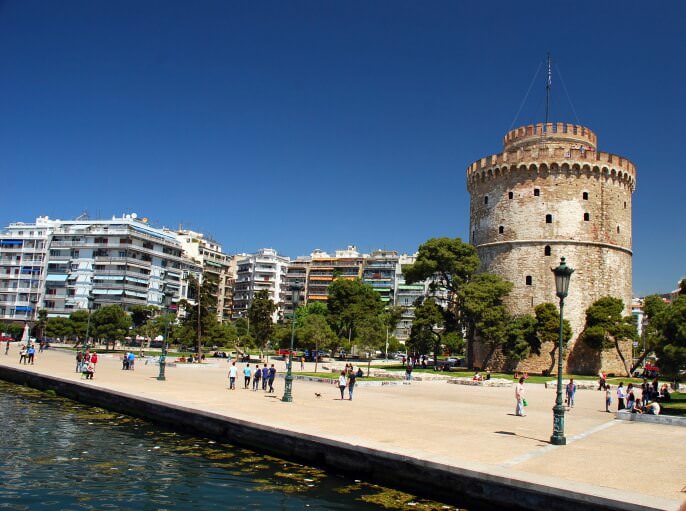 Thessaloniki is known for being a cultural hub. As the second largest city in Greece, there is no shortage of things to do. While here, you can enjoy the wide range of art that the city has to offer. One of the things that you can enjoy are the many art museums, which will allow you to explore both art and culture. Here are some of the museums you will want to see:
The Teloglion Foundation of Art was founded thanks to donations of an art collection and the personal property of Aliki and Nestor Teloglion in 1971. Today, this is one of the most important art collections that you will find in Greece. It has more than 8,000 pieces of art which includes Modern Greek and European art. Artists showcased include: Bouher, Salvator Rosa, Sklavos, and Tsarouchis to name just a few. It's a great place to view this unique collection.
Visiting the Macedonian Museum of Contemporary Art in Thessaloniki will give you the opportunity to view artwork created by Greek and international artists. Showcased at the art museum are paintings, engravings, photography, and sculptures. In addition to the permanent exhibits of the Macedonian Museum of Contemporary Art, there are also temporary and touring exhibitions.
The Byzantine Empire left a lasting impression on Greece because from 330 AD to 1453 AD, Greece was part of it. This was also known as the Eastern Roman Empire. Today, there are still many places around Greece that showcase the influence of the Byzantine culture. At the Museum of Byzantine Culture in Thessaloniki, you can learn about this important time period.
Exhibits at the Museum of Byzantine Culture include: early Christian churches, early Christian cities and dwellings, and cemeteries. This museum will help you to get an understanding of the life and culture of the Byzantines in Greece.
The Thessaloniki Archaeological Museum showcases the culture and history of the Ancient Greeks, Romans, and Byzantines. Exhibits at the museum include Prehistoric Macedonia, Macedonia starting from the 7th century BC until Late Antiquity, the Gold of Macedon, and the Memory in Stone. Another interesting exhibition you can explore is called Field, House, Garden, Grave. This museum is a great place to view some of the art that is part of this historical culture.
When spending time in Thessaloniki, you will have many opportunities to enjoy art, such as in museums and art galleries. For example, many of the galleries in Thessaloniki aim to promote art that is created in Greece. In one venue, you may experience art from different periods of history, such as art that ranges from contemporary to post-war.
Artwork showcased at galleries comes in different genres including paintings, sculptures, icons, engravings, and even video art. Galleries host both permanent and temporary exhibitions. The galleries of Thessaloniki are a great way to become educated about art of the past and be introduced to young, talented artists of the future.
Thessaloniki is the perfect destination for art exploration. While here, you won't want to miss the chance to visit one of these museums.
PLEASE NOTE: The Greek travel section at GreekBoston.com are not paid reviews. Our unbiased and informative travel articles are designed review the popular cities, islands and places in Greece. We are not always able to exactly match the photos to the destinations, but we do try to get close. However, we are not looking for photo submissions at this time. If you find something in a Greek travel article that is not accurate based on your personal experience, please send us an email to greekboston@worldwidegreeks.com and we will consider your suggestions. Thanks for reading the travel section at GreekBoston.com!
Categorized in: About Thessaloniki, Greece, Greek Travel Guide
This post was written by Greek Boston
Share this Greek Travel Article: