What Tourists in Greece Should Know About Worry Beads (Komboloi)
Written by Greek Boston in About Athens, Greece, Greek Travel Guide Comments Off on What Tourists in Greece Should Know About Worry Beads (Komboloi)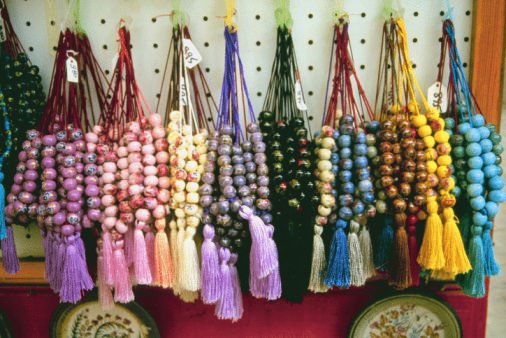 On a trip to Greece, there's a good chance that you'll notice Greeks fidgeting with a string of beads in their hands. The string of beads are known as worry beads or komboloi, which Greeks use to soothe themselves, especially during difficult times.
Worry beads or komboloi are loosely based on prayer beads that are used in different religions to keep track of prayers and calm the mind. Examples include the Catholic rosary, Muslim prayer beads, and the rope belts worn by medieval monks. Greeks have adopted the habit, but as a secular hobby. To Greeks, worry beads have become a fashion statement and a skill to master.
There are two different types of worry beads. The most well known are komboloi. These worry beads have a loop with an odd number of beads. The top of the loop may have a fixed "main bead" called the "priest". Begleri are relatively new worry beads that have only become popular since the 1950's. They are a single string with an even number of beads.
There are many different ways to use worrying beads and everyone finds a unique routine that works just for them. Some people spin the beads in their hands. Others choose to count the beads over and over. There is no right or wrong way. The goal is simply to use the beads to defuse stress and calm the nerves.
Worry beads are a great Greek souvenir to take home and are sold in just about every tourist shop in Greece. However, it's important to note that worry beads range in quality, from the cheap "tourist" version to high-end hand-cut amber beads that are very soft and fragile. The cheapest worry beads are made of synthetic materials that are similar to marbles. Worry beads made of organic materials such as precious stones, bones, horn, wood, coral, mother-of-pearl, and seeds cost more. These beads are considered more pleasant to touch. Some worry beads are worth more than 10,000 euros and rare worry beads are collector's items.
If you are looking to learn more about worry beads and make a purchase, one of the best places to visit is the Worry-Bead Shop & Komboloi Museum in the port town of Nafplio, 2 ½ hours from Athens. The first floor is the worry bead shop that features a significant selection. Synthetic worry beads are available here and cost around 6 euros, but if you are looking for something a little more special to remember your trip to Greece you can also find antique and amber worry beads that can cost hundreds of euros. Be sure to "test drive" worry beads before buying them to make sure that the string fit well in your hand. The Komboloi Museum is located upstairs and has small rooms that contain owner Aris Evangelinos' favorite worry beads from his vast collection. English labels explain how variations on worry beads are used by many different faiths. It is free to visit the shop, but entrance to the museum costs 3 euros.
PLEASE NOTE: The Greek travel section at GreekBoston.com are not paid reviews. Our unbiased and informative travel articles are designed review the popular cities, islands and places in Greece. We are not always able to exactly match the photos to the destinations, but we do try to get close. However, we are not looking for photo submissions at this time. If you find something in a Greek travel article that is not accurate based on your personal experience, please send us an email to greekboston@worldwidegreeks.com and we will consider your suggestions. Thanks for reading the travel section at GreekBoston.com!
Categorized in: About Athens, Greece, Greek Travel Guide
This post was written by Greek Boston
Share this Greek Travel Article: