Favorite Beaches to Visit in Thessaly
Written by Greek Boston in About Thessaly, Greece, Greek Travel Guide Comments Off on Favorite Beaches to Visit in Thessaly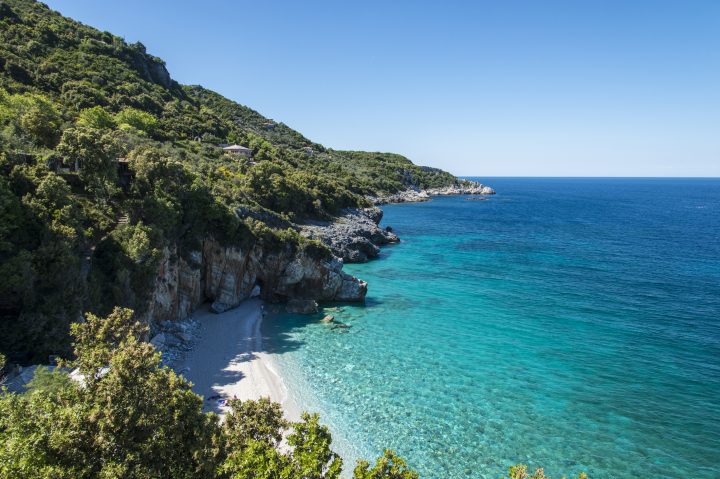 Located in central Greece, Thessaly has picturesque beaches, crystal clear waters, historical landmarks, and stunning mountainous landscapes. The region is also known for its diverse cultural heritage, ancient ruins, and the mythological story of the Centaurs.
Thessaly is a popular destination among tourists, and its coastline offers some of the most beautiful beaches in the country. Here are the five best beaches in Thessaly, Greece.
Mylopotamos Beach
Mylopotamos Beach is a stunning beach with crystal-clear waters, a white sandy beach, and lush green surroundings. The beach is accessible only by foot or boat, adding to its exclusivity and privacy. The beach is surrounded by large rocks that add to the picturesque setting. The clear water is shallow and warm, perfect for swimming and snorkeling. For adventure lovers, there is a cliff diving spot that offers a thrill-seeking experience.
Paralia Agioi Saranta
This beach offers a long sandy shoreline, crystal-clear water, and a peaceful atmosphere. The shallow water makes it an ideal spot for families with children. There are also several restaurants and cafes along the beach that offer refreshments and traditional Greek cuisine. The beach is surrounded by lush greenery, and several walking trails are nearby if you want to explore the area.
Fakistra Beach
This secluded beach on the eastern side of Pelion is a hidden gem worth the journey. The beach is only accessible on foot, and the hike down to the beach is steep and rocky, but the reward is worth it. Fakistra Beach is a small, secluded cove with crystal-clear waters and golden sand. The high cliffs surrounding the beach provide shade during the hottest part of the day. There are no facilities on the beach, so visitors need to bring everything they need.
Chorefto Beach
Chorefto Beach is a long, sandy beach located on the eastern coast of Pelion. It's known for its crystal-clear waters and excellent water sports conditions, including windsurfing and kiteboarding. It is also ideal for sunbathing and enjoying sunsets. The beach is surrounded by lush greenery and is a popular spot for hiking and exploring. Several tavernas and cafes are nearby to enjoy traditional Greek cuisine and refreshments.
Tzasteni Beach
Do you want to explore an unspoiled beach? In that case, Tzasteni is a hidden gem with crystal clear water and rocky formations that you will love. The beach is accessible only by foot or boat, adding to its exclusivity and privacy. Visitors can enjoy swimming, sunbathing, and exploring the rocky formations. The beach is also an excellent spot for fishing, adding to the unique experience. The beach is secluded, and visitors can enjoy its peace and tranquility. There are no facilities, so visitors need to bring their supplies, but the stunning views are worth the extra effort.
Thessaly, Greece, offers many stunning beaches with unique charm and beauty. From unspoiled and secluded beaches to popular and bustling ones, Thessaly has something to offer everyone.
Whether you're looking for an exclusive private beach or a spot with various activities and amenities, Thessaly's beaches won't disappoint. So, pack your bags, grab your sunscreen, and get ready to explore the breathtaking beaches of Thessaly.
PLEASE NOTE: The Greek travel section at GreekBoston.com are not paid reviews. Our unbiased and informative travel articles are designed review the popular cities, islands and places in Greece. We are not always able to exactly match the photos to the destinations, but we do try to get close. However, we are not looking for photo submissions at this time. If you find something in a Greek travel article that is not accurate based on your personal experience, please send us an email to greekboston@worldwidegreeks.com and we will consider your suggestions. Thanks for reading the travel section at GreekBoston.com!
Categorized in: About Thessaly, Greece, Greek Travel Guide
This post was written by Greek Boston
Share this Greek Travel Article: