Beaches to Visit When in Kea, Greece
Written by Greek Boston in About Kea, Greece, Greek Travel Guide Comments Off on Beaches to Visit When in Kea, Greece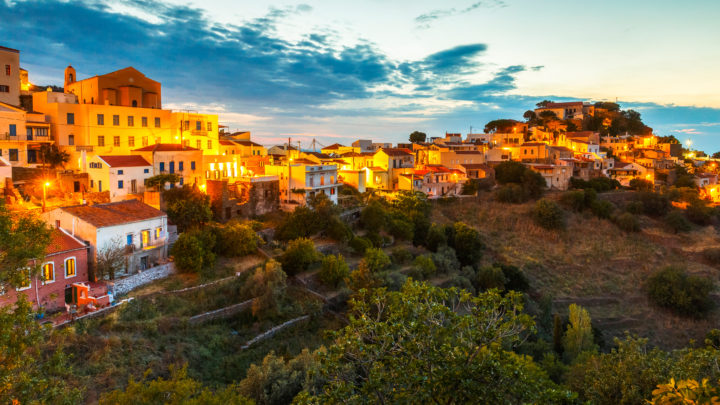 The Greek island of Kea has some of the greatest beaches of all the Greek islands. Thanks to its proximity to Athens, the island of Kea is easy to get to. When visiting Kea, you will have the opportunity to see and do many things, but you won't want to miss lounging on the beautiful beaches. Here are some of the beaches you can enjoy when in Kea.
Pisses Beach
Located 12 km southwest of Ioulida and 17 km from the Port of Korissia, Pisses Beach is family friendly and organized. The beach is located on a fertile plain and surrounded by mountains. Pine trees grow in abundance behind the beach and the valley is filled with gardens of vegetables. The beach itself is in a protected bay. Pisses Beach experiences the summer winds of Meltemi, which can create rough waters at times.
This is ideal for anyone who loves to surf. When the waters are more calm, it is a good beach for swimming and snorkeling. If you enjoy camping, Pisses Beach is the only campground on the island of Kea. When you want to explore the surrounding area, the hill to the left of the beach is where you will find the ruins of the ancient Piiessa. On the hill to the right of Pisses Beach is the Church of Agios Sotira and the ancient Piiessa cemetery.
Spathi Beach
Spathi Beach on the island of Kea is located 13 km northeast of Ioulida. This sandy and partly organized beach is the perfect destination for families, especially if you are looking to enjoy a less crowded beach experience. Spathi Beach isn't as frequented as some of the other beaches. The beach is home to Spathi Beach Bar & Restaurant where you can enjoy Greek, Mediterranean, and seafood meals. There is a full bar as well as outdoor seating and parking available. Spathi Beach is accessible via the bus route that goes from Ioulida to Korissos.
Melissaki Beach
For a more secluded beach experience, Melissaki Beach is just 8 km northwest of Ioulida. The beach is close to Korissia, but doesn't get loud or crowded, so you will experience a peaceful The pebbled beach of Melissaki is close to Xyla Beach, which also offers a quiet atmosphere. Since there are no facilities at Melissaki Beach, it's a good idea to bring your own supplies. This is the perfect beach to spend time and admire the surrounding landscape.
Koundouros Beach
Located 18 km from Ioulis, the capital of Kea, is Koundouros Beach. Thanks to its proximity to the capital it is a popular destination. In addition to the beautiful emerald waters of this sandy beach, the area is picturesque. There are restored stone mills to offer a lovely spot to explore and add charm to the area. Koundouros Beach is organized with umbrellas and sun beds. You will find a tavern and beach bar on site. The beach has other tourist facilities to be found close by as well. If you enjoy water sports, Koundouros Beach is the ideal beach to visit.
Otzias Beach
If you're looking for a family friendly beach, Otzias Beach is a good option. Otzias Beach is located 10 km from Ioulida. A fascinating part of the beach are the partial ruins of a harbor that was used as a port during classical times. The beach is part of a small settlement that is ideal for walking with its lovely narrow paths. Otzias Beach is one of the few beaches on the island of Kea to experience winds that make it perfect for windsurfing. The beach is also home to cafes and taverns. You will find accommodations in the area if you want to stay for an extended visit.
Korissia Beach
Located just 6 km northwest of Ioulida is the beautiful, family friendly beach of Korissia. Korissia Beach is surrounded by mountains that are covered in lovely, fragrant wild flowers. Korissia Beach is long and calm, the perfect setting for an afternoon of relaxation and fun. The golden sand is dotted with pebbles and close to the shore, you will find larger rocks that lead into the sea. There are also white, Greek style buildings in the area adding to the atmosphere.
Xyla Beach
If you're looking for a secluded and nudist friendly beach, Xyla Beach can be found 15 km west of Ioulida. The beach can only be accessed by motorcycle, foot, or boat. Visiting Xyla Beach has the added advantage of being just 5 km from the ancient settlement of Korissos. There you will be able to explore the remains of ancient houses and temples. As you relax on Xyla Beach and take in the deep blue waters, you will see the occasional ferry come and go.
Spathi Beach
Located 14 km from Ioulida, Spathi Beach features bright, inviting sand and crystal waters. Spathi Beach holds an important place in history as it was an important location of the island of Kea during ancient times. Extractions of iron and rubric took place in the area. Today, you will find a café close to this tranquil and scenic beach. Spathi is the perfect option for swimming and lounging under the sun.
Visit these beaches when on the island of Kea to soak up the sun and experience the best this island has to offer.
PLEASE NOTE: The Greek travel section at GreekBoston.com are not paid reviews. Our unbiased and informative travel articles are designed review the popular cities, islands and places in Greece. We are not always able to exactly match the photos to the destinations, but we do try to get close. However, we are not looking for photo submissions at this time. If you find something in a Greek travel article that is not accurate based on your personal experience, please send us an email to greekboston@worldwidegreeks.com and we will consider your suggestions. Thanks for reading the travel section at GreekBoston.com!
Categorized in: About Kea, Greece, Greek Travel Guide
This post was written by Greek Boston
Share this Greek Travel Article: