Recipe for Loukoumathes – Greek Fried Dough
Written by Greek Boston in Authentic Greek Food Recipes, Greek Desserts Recipes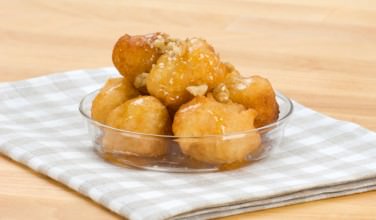 Loukoumathes are a Greek fried-dough pastry, soaked in sugar syrup or honey and cinnamon. In ancient Greece, these deep fried dough balls were served to the winners of the Olympic Games. Today, they're served all over Greece as a delicious, honey-soaked dessert. 

Ingredients to Make Loukoumathes:
1 package dry yeast
2 cups warm water
1 teaspoons sugar
4 cups flour
1 teaspoon salt
Olive oil or vegetable oil
Cinnamon, for sprinkling
Honey
Instructions on How to Make Loukoumades:
Dissolve yeast in 1 cup of the warm water. Add 1 teaspoon sugar and 1 1/2 cups flour; beat batter until smooth, cover and leave in a warm place. When its size is doubled, add remaining water, salt and enough flour to make a thick batter. Cover again and allow to rise until the batter begins to bubble, which should take about 1 1/2 hours.
Heat plenty of oil in a deep frying pan (at least 3 inches deep). Just before the oil begins to smoke, drop the dough in small spoonfuls, about 10 at a time. Fry over a moderately slow heat until puffed and golden brown. Take them out with a perforated spoon and pour over honey. Sprinkle with cinnamon and chopped walnuts and serve hot.
PLEASE NOTE: Greek recipes can be slightly different based on a variety of reasons, such as the region of Greece that the recipe is being made in. If you have seen this Greek recipe made another way, please send us an email to greekboston@worldwidegreeks.com and we will evaluate your suggestion. Thanks!
Categorized in: Authentic Greek Food Recipes, Greek Desserts Recipes
This post was written by Greek Boston