Recipe for Tzatziki Sauce
Written by Greek Boston in Authentic Greek Food Recipes, Recipes for Greek Sauces and Dips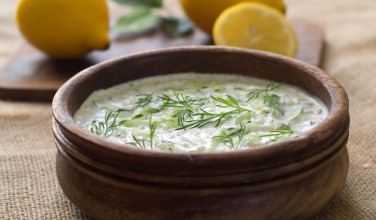 Tzatziki is a Greek dipping sauce served with grilled meats such as lamb and chicken. Although the spelling can be intimidating, it's pronounced "tad-zee-ki." Every Greek family has their own "secret" to making their tzatziki sauce great but here is the basic tzatziki recipe!

Greek Garlic Cucumber (Tzatziki) Dip Recipe Ingredients:
1 medium, peeled and grated cucumber
1/2 pint Greek yogurt
1 tablespoon olive oil
1/2 teaspoon salt
1-2 cloves garlic to taste
1-2 tablespoons white vinegar or lemon juice (optional – recipes vary according to families, churches, regions of Greece, traditions, etc)
1 teaspoon chopped dill (optional)
How to Prepare Greek Tzatziki Dip:
Place the yogurt in a bowl and add the crushed garlic.
Peel the cucumber, slice it in half, remove the seeds, and shred the cucumber using a cheese grater or food processor.
Squeeze out any excess water from the cucumber and add it the yogurt mixture. This is an important step as the yogurt will be runny if cucumber is not thoroughly strained.
Add the olive oil, salt and stir the mixture well.
Garnish with an olive or a slice of lemon.
**If you would like, add 1 teaspoon of chopped dill in addition to the rest of the ingredients.
PLEASE NOTE: Greek recipes can be slightly different based on a variety of reasons, such as the region of Greece that the recipe is being made in. If you have seen this Greek recipe made another way, please send us an email to greekboston@worldwidegreeks.com and we will evaluate your suggestion. Thanks!
Categorized in: Authentic Greek Food Recipes, Recipes for Greek Sauces and Dips
This post was written by Greek Boston